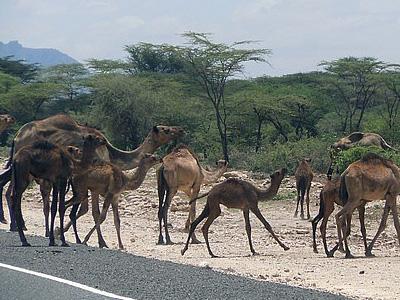 Maralal National Reserve is one of Kenya's little known treasures. Tucked away in the centre of the country amidst the Ol Doinyo Lenkiyo Mountains. Maralal completely surrounds the Samburu town of the Maralal within the Reserve's boundaries. It is one of the best places for trekking safaris, Camel safaris, and walking safaris. It runs towards the desert and is extremely hot. It is in this town where the only camel Derby in the world for both amateur and professionals is held. This is an annual event, which takes place in summer, attracting not only the parctipants but also spectators from all the corners of the earth. In the evening everyone retires to an open event at Yare safaris club and campsite for a long hard party sure enough to last till dawn.
Basic Facts
Size: Approximately 250 sq. kms
Province: Rift Valley
District: Baringo
Geographical Location: Set amidst the majestic Ol Doinyo Lenkiyo mountains in north-central Kenya around the Samburu town of Maralal.
Altitude: 1,490 m
Vegetation: Rocky and dry terrain.
Fauna: Mammals of the dry zone include impalas, elands, buffaloes, baboons, warthogs, leopards, hyenas, giraffes and zebras.
Visitor Facilities: One lodge and campsite.
Elands, impalas, buffaloes and zebras keep a watchful eye on predators such as the leopards and hyenas. Seasonally, elephant pass through the Reserve descending from the forested hills to the north. The terrace at the Maralal Safari Lodge gives you the best viewing of wildlife in the Reserve. Game viewing is both by day and floodlight by night. At the lodge, leopards are baited from a small forest nearby and can be viewed from a specially constructed blind.
Maralal from all directions gives a good panoramic view, and its processions of wildlife sharing land with Samburu herders is fabulous. Related to the Masai further south, the Samburu warriors of Maralal dressed in their traditional clothing, live in a mutual dependence with the environment and wildlife around them. Maralal National Reserve receives relatively few visitors in comparison to the Samburu reserve to the east despite its beautiful landscape and wide assortment of wildlife. This helps make Maralal a truly enjoyable destination.
Lodging
The only lodge in Maralal National Reserve is the Maralal Safari Lodge with 48 beds. Located north of Maralal town, this lodge is the only one in the area with adequate visitor facilities.
The only camping and low budget facilities in Maralal are at the Yare Safaris Hostel and Campsite located 4 kms south of Maralal town. Yare is a recognized hostel with many good facilities, including a restaurant and lounge. The campsite and hostel are located on a nice hill where its is possible to view game, despite the fence erected to protect visitors against more aggressive animals.