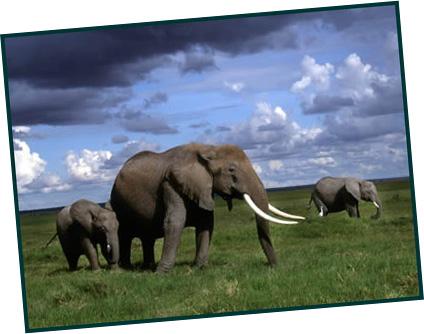 Amboseli lies immediately North West of Mt. Kilimanjaro, on the border with Tanzania. Amboseli was established as a reserve in 1968 and gazetted as a National Park in 1974. The Park covers 392 kms and forms part of the much larger 3,000 Kms Amboseli ecosystem. Large concentrations of wildlife occur here in the dry season, making Amboseli a popular tourist destination. The National Park embodies 5 main wildlife habitats: open plains, acacia woodland, rocky thorn bush country, swamps and marshland. The Amboseli territory belongs to the Maasai people. Despite the first impression of a dusty and arid land, actually Amboseli is overflowing with water all the year round, but under the ground. The snows of Kilimanjaro melt and flow downhill, soaking the porous subsoil layers of volcanic rocks. Waters converge into various underground streams, that rise in two clear water springs in the center of the park.
Species. Many species of mammals are recorded in Amboseli, like buffaloes, lions, cheetahs, gazelles, wildebeest, hyenas, jackals, warthogs, Masai giraffes, zebras and baboons. In the swamps of Enkongo Narok and Olokenya there are large herd of elephants.
Activities. Amboseli is famous for its big game and its great scenic beauty, the landscape dominated by Mt. Kilimanjaro. The park has five gates, Kelunyiet, lremito, Ilmeshanan, Kitirua and Airstrip. At the western part rises the Observation Hill, the only height in the park, a smooth hill to be climbed on foot that displays a magnificent view of the whole park and beyond. Southward, the layers of volcanic rocks expelled by Kilimanjaro some hundreds of years back rise to the surface, giving the landscape a lunar aspect.