Lake Nakuru is a very strong alkaline lake 62 kms in extent. Since its gazetting in 1968 as a national park, both authorities and conservation organisations have kept on winning the battle to private property and human settlings, further broadening the park limits in 1968 and 1974 to its current extension of 188 kms. The park is easily accessible, since Nakuru is the fourth city in the country and the headtown of the Rift Valley. The park covers the lake and a land strip around the northern, eastern and western shores, whereas southward the grounds extend farther to Makalia Falls, which define the south limit. The shores are surrounded by swamps, that during the driest seasons disappear to give rise to huge white salt crusts. The riverine forest opens up southward in a bush and acacia tree savannah.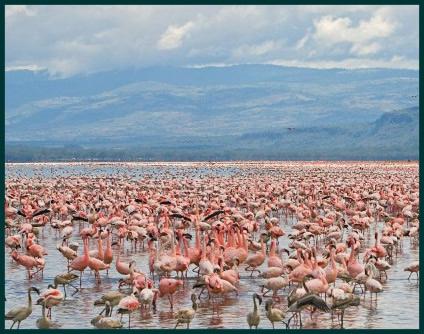 Species. The park is a fantastic bird sanctuary as its shores are populated at times by more than one million flamingoes. There are 450 birds species recorded. The famous ornithologist Roger Tory Peterson defined it as "the greatest bird spectacle on earth". It is also home for 56 species of mammals, including carnivores such as lions and leopards, then buffaloes, warthogs, waterbucks, Thompson's gazelle. In 1987 the park was declared a sanctuary for the protection of the endangered Rhinos, allowing the re-introduction of specimens of both species, black and white. Here the visitor can easily find two of the five rhino species surviving in the world. About 550 different plant species are recorded including the unique and biggest euphorbia forest in Africa.
Activities. Game drives are organized and view-points are Lion hill, Baboon cliff and Out of Africa. Visit Makalia waterfalls.