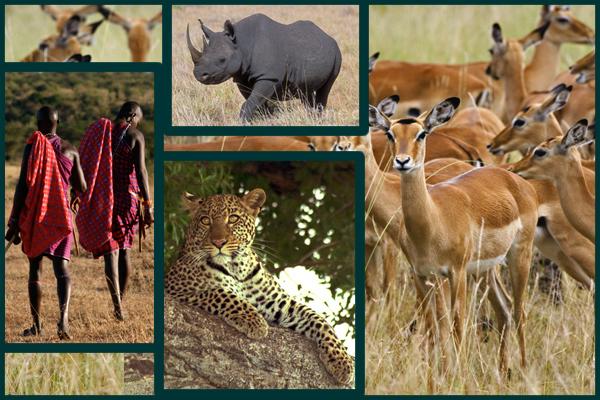 Masai Mara is the most famous and most visited reserve in Kenya. Since it is protected as a reserve and not as a national park, Masai Mara is not managed by Kenya Wildlife Service but by the local authorities, namely District Councils. The protection of this area, among other factors, favoured re-population of the territory by the Maasai tribes, who by virtue of the reserve status were put in charge of the reserve's management through the District Councils.
The reserve offers breathtaking views, an extraordinary density of animals including the "Big Five" and a variety of plains game. Gazetted in 1961, it is located west of the Rift Valley and is a natural extension of the Serengeti plains of Tanzania. The Mara river traverses north to south heading westbound into lake Victoria, through the Tanzanian park. In the hills and plains, grasslands are scattered with acacia woods and bush. The riverbanks of the Mara and of the multiple tributary streams are bordered by dense riverine forests. Masai Mara's location and altitude, above 1,500 m, yield a climate which is milder and damper than in other regions.
Species. The list of mammals includes elephants, leopards, Black Rhinos, buffaloes, plains zebras, roan antelopes in small numbers, white-bearded gnu, Oribis, warthogs, Thomson's and Grant's gazelles, hartebeests and the big cats. The rivers are home to hippos and crocodiles. Maasai Mara has the largest population of lions. There are 450 bird species, including red winged schalow's turaco, white-tipped crests, ross turacos, orange buff pel's fishing owl, wary guinea fowls. The open plains birds include the Jackson's bustard and the black-bellied hartlaubs bustard. 53 species of birds of prey have been recorded. Secretary birds are common.
Activities. From July to October, Masai Mara is at its peak, with the seasonal visitors populating the vast grasslands for a very good experience of game drives.