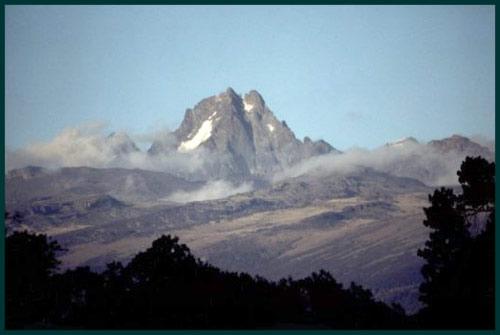 Mt. Kenya is an imposing extinct volcano dominating the landscape of the Kenyan Central Highlands, east of the Rift. Mt. Kenya lies about 140 km North, North-East of Nairobi with its Northern flanks across the Equator. The mountain has two main snow-covered peaks, Batian (5199m) and Nelion (5188m). The mountains slopes are cloaked in forest, bamboo, scrub and moorland giving way on the high central peaks to rock, ice and snow. Mt. Kenya is an important water catchment area, supplying the Tana and Northern Ewaso Ngiro systems. The park, which was inscribed by UNESCO as a World Heritage Site in 1997 and is also a Biosphere Reserve, covers 715 sq. km. Surrounding the park is Mount Kenya National Reserve with an area of approximately 2.095 kms.
Species. The park includes a variety of habitats ranging from higher forest, bamboo, alpine moorlands, glaciers, tarns and glacial morains. Mammals include elephants, buffalos, rhinos and waterbucks. Mount Kenya is home to some fascinating high-altitude alpine vegetation including giant groundsels and lobelias.
In the lower-altitude forest zone, trekkers may come across some rather large African wildlife such as elephants and buffaloes, Lions, leopards, rock hyrax, various antelope species occur in the park.
Activities. Mountain climbing, trekking and game viewing. There are at least seven routes up the mountain. The easiest is the Naro Moru (four days), then the Sirimon and Chogoria, and the Summit Circuit path. Point Lenana (4.895m), the third peak, is easily accessible by all trekkers. The full trekking can last one week up to 10 days. The best period for climbing is from mid January to February and from late August to September, when the season is dry.