Rwanda also known as the land of "Gorillas in the Mist" has its star tourist attraction in the Mountain Gorillas. The giant but gentle primates were the subject of the late Dian Fossey who dedicated her life to their protection and conservation. Her detailed work is best seen in the internationally acclaimed film "Gorillas in the Mist", which was shot in Rwanda's Volcanoes National Park.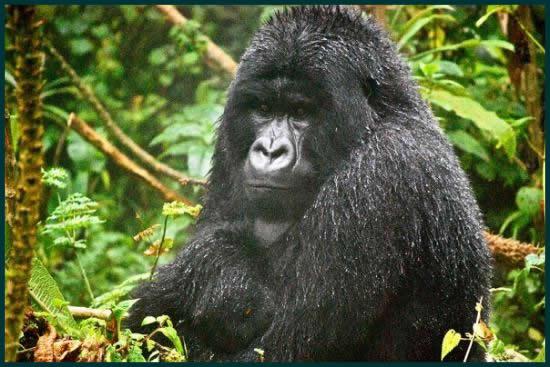 The mountain gorillas spend most of their time in the hagenia woodlands and during the rainy season when new bamboo shoots are growing, the gorillas spend more time searching for food in the bamboo forests (base altitude). The climb to the natural habitat of bamboo forest and Hagenia woodlands offers fantastic views.
PNV was Dian Fossey's base a long time ago (She died on the 26th of December 1985), and it is at the Karisoke Research Center that during 18 years she carried out her study on mountain gorillas.
There are eight gorilla groups habituated for tourism:
Susa—the largest group with 41 gorillas. This family is the hardest to trek as it tends to range high into the mountains.
Sabyinyo—Sabyinyo is an easily accessible group led by the powerful silverback Guhonda. There are fewer members within this family than in the other groups.
Amahoro—led by the calm and easy going Ubumwe, Amahoro is made up of 17 members and means "peaceful".
Group 13—when first habituated this group had only 13 members hence its name. Now the group has approximately 25 members.
Kwitonda—this 18-member group is led by Kwitonda which means "humble one" and has two silverbacks and one blackback.
Umubano—a family of 11, Umubano were originally Amahoro members but broke off after the dominant silverback was challenged by Charles, now the leader of Umubano.
Hirwa—this group emerged recently and was formed from different existing families, namely from Group 13 and Sabyinyo. Eventually more gorillas joined.
Karisimbi– a family of 15, a new group.
Due to the altitude it is generally quite cold, especially during the evenings. Gorilla viewing is possible all the year round.
Access to the area starts with Ruhengeri a town about 1h30 drive from Kigali and afterwards to Kinigi (14 km from Ruhengeri) where the park headquarters are located.
The area is well protected and therefore secure with well trained motivated, kind and satisfactory rangers to lead you to a pleasant trip. It is still a wonderful place to see the mountain gorilla, and it normally offers excellent opportunities for photos. The gorilla tracking is less strenuous than in Bwindi Impenetrable NP however the altitude may cause difficulties for some visitors, as gorillas tend to climb higher during dry season. A good physical condition is also recommended here.