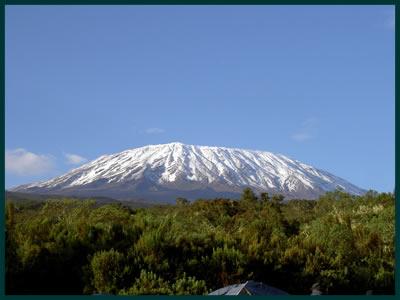 Kilimanjaro is a giant volcano reaching an elevation of 5,895 m with Uhuru Peak. Other names for this volcano are: Kilima Dscharo, Oldoinyo Oibor (white mountain in Masai) and Kilima Njaro meaning shining mountain in Swahili. The highest and youngest cone is named Kibo. Shira to the west and Mawenzi in the east are older cones that make up Kilimanjaro. Kibo has not been active in modern times, but steam and sulfur are still emitted. At the top of Kibo's summit is a 1½ mile (2 ¼ Km) wide crater.
Activities. The upward track wends through forests that vary constantly with the altitude and finally opens out into open moorland below rocky, snow covered Kibo plateau. It has 3 volcanic centres, Shira, Kibo, and Mawenzi. 5-day, 7-day & 8-day climbs are easily arranged from Moshi or Arusha and is the perfect start to your trip in Tanzania. The most popular trail is the Marangu Route, which will take 5 days 4 nights.
The best time to climb Kilimanjaro is between June to September and December to March.