Bwindi Impenetrable national park, 331 kms, is located in South Western Uganda, on the edge of the Albertine Rift Valley, at an altitude range from 1.160 m to 2.607m. This is a real tropical rainforest, spread over a series of steep ridges and valleys. It is regarded as one of the most biologically diverse forest in Africa. In the local language "bwindi" (from "mubwindi") means "dark place", referring to the impenetrable nature of the swamp located southeast of the Park, according to legends.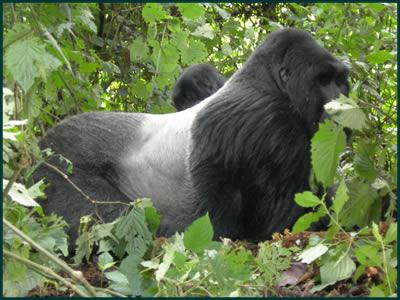 Species: There are 11 species of primates, including chimpanzees, Hoest's, red-tailed and blue monkeys, black and white colobus, olive baboons. Particularly, Bwindi is home to half of the worlds mountain gorillas population, remaining in the world. There are 346 species of birds recorded (Bwindi contains 90% of all Albertine Rift endemics, difficult to see in any other place in East Africa) and 200 species of butterflies. Mammals count is only 30 (buffaloes, leopards, elephants) and there are 324 species of trees.
Activities: The main activity is "gorilla tracking" and there are 10 habituated families of mountain gorillas. Hiking trails are open to people to sight birds, butterflies, and primates, (along the Munyaga, Waterfall, Rushura, River Ivi and Bamboo zone trials). Specially recommended for bird watchers are the River Ivi and Mubwindi swamp nature walks. Cultural walks to Buhoma village community can be organised to see the traditional homesteads, the local healer, the banana brewing, handicraft making and cultural performance.