This park, 260 sq.kms, is located in Mbarara District, with an altitude range from of 1220m to 1828m above sea level. The park is named after the lake which lies in this territory.
Species: This little park hosts a variety of animals, that is to say 68 mammal species, including a large number of impalas (the antelope from which "Kampala" is named after), Uganda kobs, zebras, Ankole cattle, buffaloes, topis, leopards, spotted hyenas, waterbucks, warthogs, oribi, bushbucks, duikers. There are 315 bird species, including red faced barbet, crested crane, shoebill stork, papyrus yellow warbler. The vegetation is dominated by an open Savannah of Acacia trees, Olea and Boscia.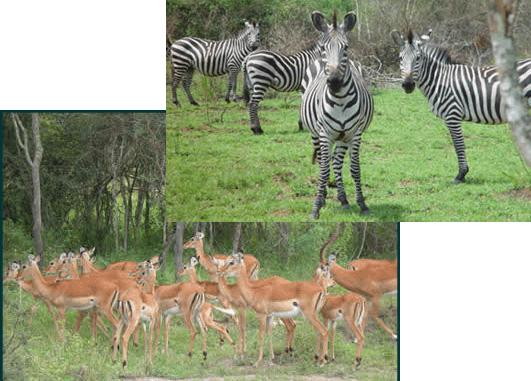 Activities: Boat trip on lake Mburo, Game drives along the Park to see the animals (following the Impala, Zebra, Kazuma or Lakeside tracks), Nature walks and bird watching.