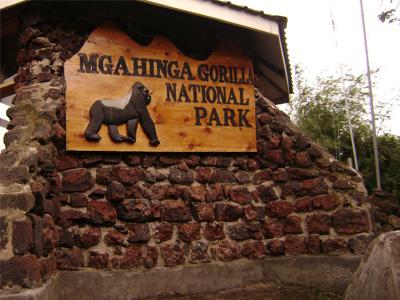 Mgahinga National Park, only 38 sq.kms in size, is the Ugandan part of the bigger Virunga Conservation Area, which is a jointly protected area with Congo and Rwanda. It includes three extinct volcanoes: Mount Sabinyo (3.669 m.), Mount Gahinga (3.474 m.) and Mount Muhavura (4.127 m.). "Mgahinga" is named after Mount Gahinga plus the initial of Mount Muhavura.
Species. The vegetation is the one typical of afromontane areas, with a consistent bamboo forest. There are 76 mammal species recorded, including buffaloes, elephants, bushbucks, golden monkeys, leopards. 115 bird species have been recorded, including Rwenzori turaco, crowned hornbill, black kite and crowned crane. Mgahinga hosts a population of golden monkeys and a few families of mountains gorillas.
Activities. Each of the three volcanoes can be climbed with a day trip hike, without a special mountain equipment. Visits are organised to the Garama Cave, near the Park Head Quarter in Ntebeko, which is 432 m in length and was once inhabited by the pygmy population. The main attraction was the "Gorilla tracking" when there was one habituated family of mountain gorilla, in 2005 this family migrated into Rwanda. A number of nature trails are available from the gate at Ntebeko (the Sabinyo Gorge trail and Rugezi Swamp trail), especially for bird watching activities.