Why Uganda is referred to as the primate capital – Primates in Uganda
Uganda is popular as the primate capital of the world with the latest recommendation being when it was listed on the New York Times 52 Places to Go. Kibale Forest National Park, in particular, is referred to as the world's primate capital since its home to 13 of the 20 primates in Uganda.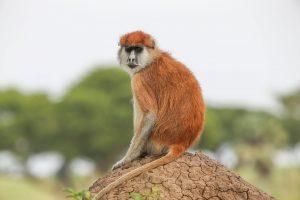 Primate species in Uganda include the latest discovered Dwarf Galago, mountain gorillas in Bwindi Impenetrable National Park and Mgahinga Gorilla National Park, chimpanzees in Kibale Forest, Kyambura Gorge, Budongo forest and kalinzu forest. Other primates include the black-and-white-colobus monkey, red-tailed monkey, grey-cheeked mangabey, I'Hoest's monkey, blue monkey, olive baboons. The bushbaby and potto are some of the nocturnal primates that can be seen on a night game drive during wildlife safaris in Uganda. The golden monkeys are endemic to the Virunga Mountains and Uganda is lucky to have these species only in Mgahinga National Park.
The black-and-white colobus monkeys are one of the popularly spotted primates around the country. They derive their name from the color of their bodies that are black and white fur and a Greek word colobus that means mutilated. This is because unlike all other primates these monkeys do not have thumbs. It's beautiful seeing them since they move in troops of 5-10 individuals and swing through tree branches with their striking black and white color.
Chimpanzees are one of the four great apes and man's closest relatives, sharing about 95 – 98 percent DNA with humans. Uganda hosts one of the highest populations of chimpanzees in the wild. Over 5000 chimpanzees are living in Uganda and can be seen at wildlife sanctuaries like Ngamba Island Chimpanzee Sanctuary or trekked on a Uganda chimpanzee trekking safari.
The population of Mountain gorillas is estimated to be 1063 with the latest census in the Bwindi forest and Sarambwe reserve that led to this increase from the previous 1004. To trek gorillas in Uganda, one requires to be of age 15 and above and as well have purchased a gorilla trekking permit from the Uganda Wildlife Authority through a Uganda tour operator. Gorilla trekking has been referred to as a lifetime activity by many travelers and therefore a must-do on many travelers bucket lists.
Best time for primate tracking in Uganda
The best time of the year for Uganda safaris is during the dry season months of June –August, and December –February which makes it easy to go through the trails. When trails are drier, trekking is easy since trails are passable and the park is accessible. It is best advisable to track primates during the dry season. However, the dry season is actually the peak or high season therefore early booking is recommendable since permits can easily get fully booked as well as accommodation.
Top Primate tracking packages in Uganda – Primates in Uganda

To have a primate tracking safari, one needs to have a well-planned itinerary, here are the perfect handpicked safari itineraries to choose from for your trip
7 days great primates Uganda safari 
14 days Uganda safari Eco-explorer 
Uganda safari, trips & tours from Uganda gorilla trekking tours to exciting game drives in the most visited Uganda Safari Destinations that will leave you wanting for more. The perfect Uganda safaris for you and your budget. Uganda is considered as the Pearl of Africa has a lot to offer to the world in terms of safari adventures. Besides, Uganda has such a wealth of attractions that a single visit will not be enough to discover all its wonders. It has 10 National parks namely: Murchison falls NP, Kidepo Valley NP, Queen Elizabeth NP, Mgahinga Gorilla National Park, Lake Mburo National Park, Semuliki National Park, Rwenzori Mountains NP, Kibale Forest NP, Bwindi impenetrable NP, Mt.Elgon NP. Each of these offering magnificent and unique fauna and flora, which make visitors always remember memorable moments in the Pearl of Africa.
Our most popular Uganda Gorilla Safaris to Bwindi Impenetrable Park and Mgahinga Gorilla Park offer our Gorilla Safari Uganda clients a great opportunity to go for Mountain Gorilla Trekking. The Most Popular Safari Packages include 3 days Bwindi Uganda Gorilla Trekking Safari and 3 days Mgahinga Gorilla Uganda Safari Tour. The Uganda Safari are categorized into 3 major categories namely Short safaris, medium safaris, and long safaris. The short safaris range from 1-3 days, the medium safaris range from 4-6 days and the long safaris range from 7 days and beyond.