How Dangerous are Gorillas to Humans?
The best and only way to see gorillas in Africa is by trekking which involves hiking on foot and therefore being that these are wild animals there could be thought to be dangerous to humans. Due to the fact that with gorilla trekking you walk through the jungle, many tourists on either Uganda gorilla safaris, Rwanda gorilla tours, or gorilla trekking in Congo, should be aware of how violent mountain gorillas can be dangerous to humans.
Africa is popular for lots of fearsome predators including lions, hyenas, and many more but luckily mountain gorillas are not part of them. Mountain gorillas are habituated before they are opened to tourists for gorilla trekking. During habituation, gorillas are taken through a long process where they get familiar with the presence of humans as rangers spend time with the gorillas for about 2 years until the gorillas get unbothered with the presence of people.
During Time for Gorilla Trekking
After the rangers realize that the mountain gorillas are familiar with humans, other people including researchers and guides are brought to meet the gorillas and if the gorillas pass this test then they are opened up to tourists for gorilla trekking. When you go for a trekking safari in Uganda or Rwanda, the ranger guides go with you to the jungle to ensure that you are safe since they are much familiar with the gorillas. A total of 8 tourists are allocated 2 armed ranger guides to ensure their safety in the forest.
Being habituated gorillas have been carefully exposed to human presence and have learned that humans are not a threat.  However, they are still cautious and act according to your reaction to them. In case the gorillas feel unsafe they may react since they are still wild animals though there are no recorded cases of when mountain gorillas have gone violent on humans during gorilla trekking.  Your ranger guide will take you through the precautions and what is required of you in case gorillas get upset with your presence
Things that make gorillas violent
What triggers gorillas to act in defense include being surprised or feeling threatened. Things like beating your chest and looking into the gorilla's eyes directly like you are picking up a fight can make them feel threatened.
How do you tell a mountain Gorilla is getting violent?
If they feel threatened, a silverback mountain gorilla may react by making bluff charges, beating on his chest with aggressive sounds, or running directly towards their target.
When the silverback gorilla charges towards someone in most cases it will stop just a few feet away just to wait for the target reaction. Make sure you do not react like you are picking a fight.
What do you do when a gorilla looks dangerous to humans?
Though a rare occurrence, you should be aware of what to do in case of the gorilla charges towards you since you definitely can't fight this massive size of a giant.
The most appropriate reaction is that you crouch down slowly, look away and act casual/with no intentions of threat. In this way, the gorilla will see you as non-threatening and therefore will move away and return to their family.
Gorilla trekking is one of the most amazing primates to track and safaris can be tailored on any other kind of tour. Gorilla trekking can be tailored with a Kenya safari or wildlife safari in Tanzania is an amazing way of having a truly authentic African experience.
Uganda gorilla trekking safaris are done in Bwindi Impenetrable National Park and Mgahinga Gorilla National Park in South western Uganda.
Gorilla safaris in Uganda started way back in 1993 when gorilla trekking was opened to tourists after a gorilla habituation process. A gorilla trekking permit in Uganda costs USD 600 for each permit sold to only individuals above the age of 15.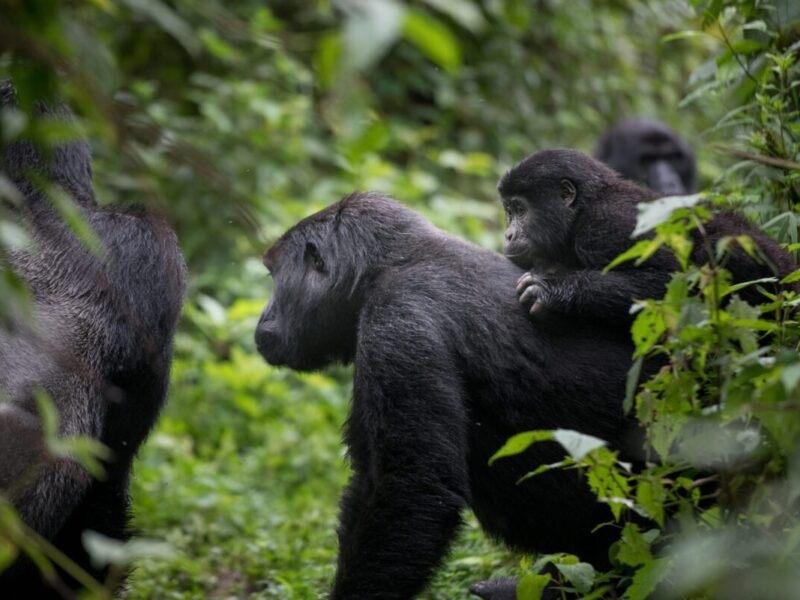 3 Days Uganda Gorilla Budget Safari is done in Bwindi Impenetrable National Park which is located in southwestern Uganda a magnificent verdant swathe across the steep ridges of the Albertine Rift Valley.