Best time for gorilla trekking in Mgahinga Gorilla National Park
Mgahinga Gorilla National Park is open for gorilla trekking all year round, but the best time is during the dry season. The dry seasons are in two different times of the year which are months of June –August and December –February. During these times, the trails tend to be drier which makes it easy to go through them.
It is best advisable to track gorillas during the dry season since it's easy to trek gorillas as well as view wildlife. However, the dry season is actually the peak or high season therefore early booking is recommendable since permits can easily get fully booked as well as accommodation.
In the dry season, there are high chances of no rains during the trek and therefore making the one hour spent with the gorillas more pleasant. Trekking on drier trails is great and spending a whole hour watching a mountain gorilla family known as Nyakagezi without interruptions by rain is awesome and much amazing.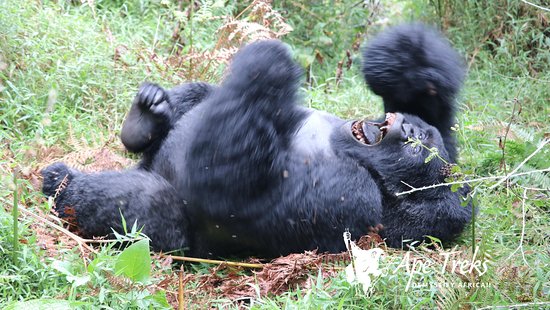 Mgahinga Gorilla National Park Trekking Experience
Mgahinga Gorilla National Park is Uganda's smallest national park and home to mountain gorillas with 1 habituated gorilla family known as the Nyakagezi gorilla group. The park is located in Southwestern Uganda. The park covers only 33.7 square kilometers deriving its name from a local word "Gahinga" which means a pile of volcanic stones cleared from a farm land at the foot of the volcanoes.  Nyakagezi is a place in Mgahinga where there is a lot of sumptuous food attractive to the gorillas.
Just like the parks name, the area was gazetted to protect the one gorilla family in the park. This group was in the previous century known to be transboundary between Uganda and Rwanda, however, the group is known to live only within the park. Lately, the Hirwa gorilla group of Rwanda's Volcanoes National Park with 20 members moved into the park.
Many travellers on Uganda gorilla safaris usually prefer to trek gorillas in Bwindi Impenetrable National Park which is home to almost half of the world's mountain gorillas. Mgahinga Park is however, one of the best places to trek mountain gorillas in Uganda and this is why;
Tracking the Nyakagezi gorilla group is amazing with the fact that this group is big and social compared to many other habituated gorilla groups. The family is comprised of three silverbacks, 2 adult females, 2 black backs and 2 infants. The Nyakagezi family is led by Silverback Mark assisted by Mafia, Ndungutse and Bugingo. Rukundo is the sole Black back, Nshuti an adult female plus two babies namely Nshuti baby and Fred. Silverback Bugingo was formerly the lead silverback before Mark took over, however the former is happily playing the role of the "senior" silverback in the group. Such a group is rare to find since in many families big groups separate to have dominance and 2 silverbacks can't lead the same group.
Nyakagezi family is one of the easiest to track given the fact that it prefers a narrow home range for feeding, nesting, relaxing and recreation. In case you are not ready to hike for a long distance,  Mgahinga is a better option since they can be found after a short time of trekker rather than those of Bwindi that may require a longer time to trek.
It's only in Mgahinga Gorilla National Park where mountain gorillas and golden monkey co-exist therefore the slogan where silver meets gold. In case you would love to see these beauties then it's good to choose trekking Mgahinga for gorillas and golden monkeys as well. There is no other place where this is possible in Uganda.
Mgahinga Gorilla National Park is closer to Rwanda and therefore easier to return to Rwanda after the trek. In case you are in Rwanda where the gorilla trekking permit is at US$ 1500 and would love to trek gorillas at a cheaper price you can opt to trek in Mgahinga at just USD 600. It's about a 4 hours drive from Kigali to Mgahinga and therefore you can return after the trek.
Mountain gorilla trekking is such a unique activity and restricted to a few national parks of Africa, it is a real experience of the African jungle forest. Mgahinga Gorilla National Park being one of the destinations for mountain gorilla trekking should highly be considered by tourists who would want to have a gorilla trek in a less crowded park and especially for those who want cheap treks but arriving and departing in Rwanda. Acacia Safaris has the expertise of planning gorilla tours, we can help you plan all your Uganda gorilla safari tours to Mgahinga Gorilla National Park. We also plan trips for Rwanda gorilla tours, Kenya safaris as well as Tanzania safaris.