Primate tracking Tours in Rwanda
Tourism in Rwanda is popular because of especially primates. Primate tracking tours in Rwanda are the lead tour packages especially well customized with other safaris. The top primate tracking activities in Rwanda include the popular mountain gorilla trekking, chimpanzee tracking and golden monkey trekking. All of these safari activities are in the two parks of Volcanoes National Park and Nyungwe National Park. Here is what to know about primate tracking tours in Rwanda;
Mountain gorilla trekking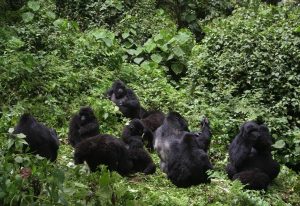 Rwanda is a top luxury gorilla tour destination because of the cost of gorilla tours in the Volcanoes National Park. To have a gorilla tour in Rwanda, there are requirements that a person should fulfil and these include a minimum age of 15 years and purchase of a gorilla trekking permit. Each Rwanda gorilla trekking permit costs US$ 1500 for all types of travelers.
The Mountain gorilla population of Volcanoes National Park is said to move for shorter distances than those in Bwindi Forest. For intending trekkers who would not wish to trek for long, then Rwanda is that perfect destination for gorilla trekking.
Volcanoes National Park is the closest park from its country's capital.  Unlike Uganda and Congo where you have a long drive of about 8 hour from the country's Airport to the park, in Rwanda the moment you arrive at Kigali International Airport, you are just 2 hours away from the Volcanoes National Park. In Rwanda it is possible to drive to the park on the day of the trek or return to Kigali after the trek. This makes it easy for travelers on short day tours to visit the country especially for tours ranging from 1 day to 3 days gorilla tour.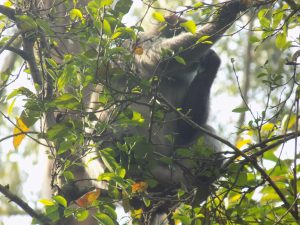 Chimpanzee tracking in Rwanda is undertaken only at Nyungwe National Park. When taking up the chimpanzee trekking experience in Rwanda, the activity starts from three reception centers known as Uwinka, Kitabi and Gisakura respectively. The advantage with trekking chimpanzees in Rwanda is that the park is close to the capital of Kigali with about 4 and half hours' drive. During the trek chimpanzees can be heard from a distance from their deafening screams, loud hoots and booming hitting of the tree barks and buttress. Chimpanzee trekking is much more fast paced which makes it more adventurous and exciting than the famous gorilla trekking.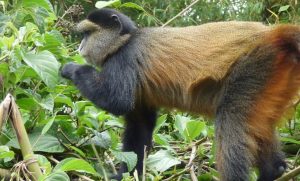 The golden monkeys are restricted within the highland forest especially near bamboo. Golden monkey trekking isn't as exhausting as gorilla tracking since the golden monkeys do not build new nests each day and therefore their movement is easily traceable. Their beauty with the golden and black patches is intriguing among primates and their playful nature offers such a great experience. In Rwanda, golden monkeys are found in Volcanoes National Park where they co-exist with mountain gorillas.
For Rwanda tours, include in primate tracking and have very up-close experiences with primates. Other activities in Rwanda include canopy walk, wildlife tours, bird watching, Kigali city tour, cultural tours and boat safaris. We also plan Uganda safaris, Kenya safaris and Tanzania tours or even combined East African trips.