Rwanda Gorilla Trekking Permit
Rwanda is a top gorilla trekking destination and a permit is a must if any traveler must have this magical lifetime experience. Rwanda's gorilla trekking permit is vital for a gorilla tour as it permits a tourist to go trekking. Mountain gorillas are the only great apes increasing in population with now an estimate of 1,063 individuals remaining.
Rwanda hosts part of this population in its Volcanoes National Park. This is a natural habitat that is home to mountain gorillas as well as other rare primates like the golden monkeys, flora, and bird species. The park has 10 gorilla families or groups that have all been habituated by conservationists and safe for tourists to visit and spend a maximum of 1 hour in their presence. Here is what a gorilla permit in Rwanda is as well as all the necessary information on this vital document;
What is a gorilla permit?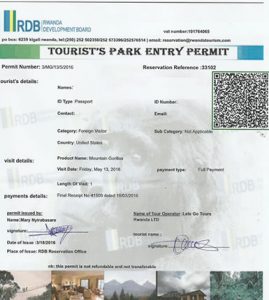 A gorilla permit is a card or document offered to an individual allowing them to trek mountain gorillas in their natural habitat. A Rwanda gorilla trekking permit is sold by the Rwanda Development Board and can be booked through a tour operator or directly by an individual. It is only after the purchase of a gorilla permit that an individual can be allowed to trek gorillas in Rwanda. On the allocated or booked day for gorilla trekking, tourists has to first present their gorilla permit at the park headquarters before they can even be allowed to enter the park and allocated a gorilla family to trek. Only individuals above the age of 15 years can be allowed to trek gorillas in Rwanda and therefore purchase a gorilla permit.
The permit is only valid for a single trek allowing tourists to have about 5-6 hours within the gorilla habitat and only a maximum of 1 hour in the presence of the gorillas. The other time is the approximate time spent trekking to and from where the gorillas spent their previous night.
Rwanda gorilla trekking permit cost
The cost of a Rwanda gorilla trekking permit is USD 1500 each. Each Rwanda gorilla trekking permit is valid for a single gorilla trekking experience. The cost is general for foreign nonresidents, residents as well as Rwandese.
2020 Rwanda discounted permits for all Rwandan nationals as well as East African citizens will pay US$ 200 for a gorilla permit and foreign nationals will pay US$ 500 for each permit. This means US$ 1300 less for East African citizens and US$ 1000 less for the foreign residents, which makes it very affordable for those who had always wanted to trek the gorillas but had financial constraints.
However, the cost of the permit isn't the general cost of the gorilla safari. This is just for trekking and your tour operator offers the final cost including all activities, meals, accommodation, transport, and guide.
Rwanda gorilla trekking permit is key in a gorilla tour and should be considered as a priority when booking a trip including trekking. Rwanda gorilla tours are very much booked and therefore ensure to book your trip early to have your slot reserved for the desired date of tracking.
Mountain gorillas are also found in the neighboring countries of Uganda and Rwanda with relatively cheaper permits. A Uganda gorilla safari permit is sold at US$ 700 and a permit in Congo is at US$ 450. These can also be booked through a tour operator like Acacia Safaris.
The top or popular short gorilla tours in Rwanda include the 2 days gorilla trek and the 3 days gorilla tour. However, gorilla trekking can also be combined with other activities in Rwanda.
Here are some of the recommended itineraries that tourists can choose when going on the East Africa safari.
3 days Volcanoes park Rwanda gorilla trekking safari
10 Days Rwanda wildlife safaris tours 
14 Days gorilla safari Rwanda and wildlife tour 
3 Days Murchison Falls Safari Uganda Tour
3 Days Gorilla Safari Uganda Bwindi Impenetrable Park Tour
3 Day Queen Elizabeth National Park Safari
4 Days Kidepo Valley National Park Uganda Safari
3 Day Jinja City Tour Uganda Safari
8 Days Uganda Wildlife Safaris Tour
9 Day Uganda Wildlife Safaris Tour
14 Day Uganda Safari Eco-explorer
15 Days Uganda Wildlife Safari Kigali City Rwanda Tour