Uganda gorilla tracking tours 2021 – safaris in Uganda
Gorilla tracking tours in Uganda during 2021 with Acacia Safaris will offer travelers such safe yet adventurous experiences trekking the mountain gorillas of Uganda's Bwindi Impenetrable National Park and Mgahinga Gorilla National Park.
The jungles of Bwindi and Mgahinga are home to more than half of the world's remaining mountain gorillas with the rest living in the Virunga National Park of Congo and Volcanoes National Park of Rwanda.
For 2021, gorilla tracking resumed after a lockdown in 2020 following the COVID 19 pandemic which makes the safaris more restricted and with strict guidelines. Here is what to know when planning to have a gorilla tracking safari in Uganda during 2021.
Both the two natural habitats of Bwindi Impenetrable National Park and Mgahinga Gorilla National Park are open for gorilla trekking and bookings are open for the whole year including the season for discounted gorilla permits that will end on 31st March 2021.
There are 19 habituated gorilla families and tourists can book a permit to visit one of the gorilla families and spend a whole one hour experiencing the lifestyle of gentle mountain gorillas.
Each permit should be booked early enough before the trip to ensure that there is available space for trekking on that specific day.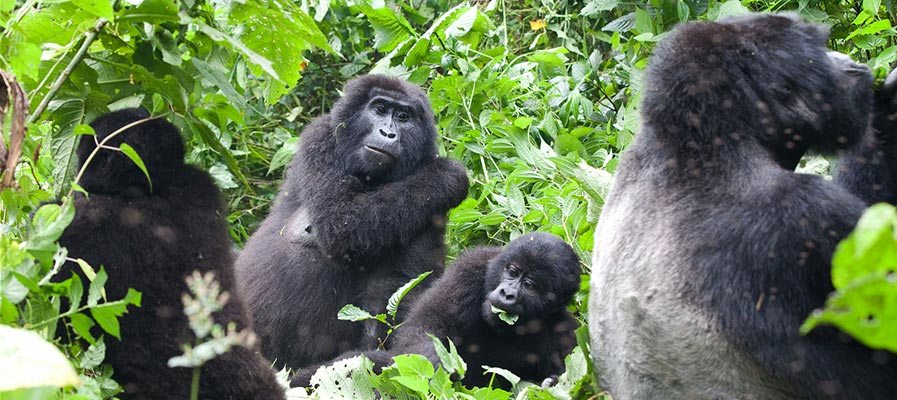 In Bwindi forest tourists who would also love to learn more about gorillas can undertake a gorilla habituation experience that can't be found anywhere else. Each gorilla habituation permit costs USD 1500.
2021 Gorilla trekking permits
To trek gorillas in Uganda, you need the Uganda gorilla trekking safari permit which costs USD 700 for foreign nonresidents, USD 600 for foreign residents, and UGX 250,000 for East African citizens.
Uganda gorilla trekking permits were discounted effective 1st December 2020 to 31st March 2021 to as low as USD 400 for foreign nonresidents from USD 700.
These discounted gorilla trekking permits are a perfect choice for budget travelers who would like to have a lifetime opportunity of trekking these gentle giants.
For all gorilla trekking permits, there is a reduction in the cost of the gorilla permit as follows. East African Community citizen gorilla tracking permits reduced from UGX 250,000 to UGX 150,000.
Foreign Resident gorilla tracking permits reduced from USD 600 to USD 300. Foreign nonresident gorilla tracking permits reduced from USD 700 to USD 400.
Each permit is valid for individuals above 15 years of age and can be used for a single trek. A maximum of 1 hour is allowed for trekkers to be in the presence of the Mountain Gorillas.
Gorilla trekking Rules & Regulations 2021 – Uganda gorilla tracking tours 2021

As you plan to trek gorillas in Uganda, you must follow these few rules to have everything ready for the trek;
With the outbreak of the COVID 19 pandemic, you must test negative 72 hours before the trek. This is a must for anyone planning to have a gorilla trekking experience in either of these parks.
Always wash your hands before you head out to the gorillas. This will help to ensure that no diseases are spread over to the gorillas that are very susceptible to diseases from humans.
Do not leave rubbish in the park. Whatever you bring into the forest should be carried back with you.
Always keep your voices low. You will also be able to observe the great birdlife and other wildlife in the forest.
Keep a minimum of 7 meters (21 feet) from the gorillas. This is to protect gorillas from human disease transmission.
You must always stay in a tight group when you are near the gorillas
DO NOT drink or eat while you are near the gorillas.
Sometimes the gorillas charge. Follow the guide's example – crouch down slowly and DO NOT look the gorilla in the eye. Then, wait for the gorillas to pass. DO NOT attempt to run away. This is because running away increases the risk of attack.
Flash photography is not permitted. When taking pictures move slowly and carefully.
Do NOT touch the gorillas. They are wild animals
The maximum time visitors are allowed to spend with the gorillas is ONE hour. If the gorillas become agitated or nervous, the guide will end the visit early.
After the visit, keep your voices down until you are at least 200 meters away from the gorillas.
Human waste should be buried 30cm deep. Do not leave open waste in the forest.
With these guidelines, book your gorilla tracking safari and have the best affordable experience this year. You can also plan with us a Rwanda gorilla tour, Kenya safari, or Tanzania safari for wonderful wildlife viewing experiences.
Related searches