Bird Watching Uganda Best Time and Destinations
Bird watching Uganda is one of the popular activities that tourists from all over the world enjoy be it avid birders or just those interested in twitching. Birding in the whole of Africa is truly amazing and so is Uganda with the fact that it is home to about 50% of the bird species in Africa and an estimate of 11% of the world's bird population.
Over 1080 bird species have been confirmed within the boundaries of Uganda with an endemic to the country known as Fox's weaver.
Watching birds or birding is very easy in Uganda because of the several well-trained birding guides that help identify all of the different bird species within the country. Birding safaris in Uganda are no ordinary trips like the wildlife tours that involve game drives.
During bird watching, you go out of the usual tracks to find the different birds, and the expertise of your guide on knowing where to find the birds is very essential.
We have the best bird guides who will definitely help you have memorable birding tours in Uganda. Here are the best places to go birding in Uganda as well as the best time to do so;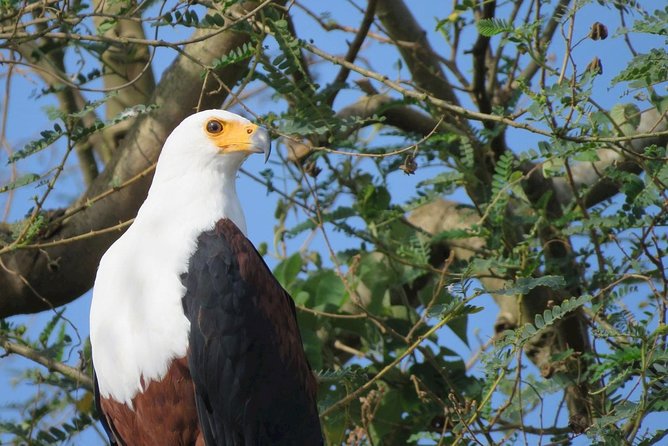 Destinations for bird watching Uganda
The famous and rewarding places for birding in Uganda include both national parks and other places. Best Uganda safari national parks include; Queen Elizabeth National Park, Murchison Falls National Park, Lake Mburo National Park, Bwindi Impenetrable National Park, Kibale Forest National Park, Mgahinga Gorilla National Park, Mount Elgon National Park, Semuliki National Park, and Kidepo Valley National Park.
Other reserves and places for the best bird watching in Uganda include; Semuliki wildlife reserve, Pian-Upe wildlife reserve, Bokora wildlife reserve, Matheniko reserve.
The best forests for Uganda birding safaris include Mabira forest, Mpanga forest, and Budongo forest whereas Lutembe and Mabamba Ramsar sites are great wetlands for birding.
All of these birding spots can be tailored in different forms of trips but most especially long birding safaris in Uganda. For short excursions or day trips, a visit to Entebbe Botanical gardens, Mabira forest, Lutembe bay offers a great birding excursion checklist with over 20 bird species in a single excursion.
Lutembe bay on the shores of Lake Victoria is a Ramsar site of interest because it's a special stopover for European migratory birds which include terns (White-winged and Caspian), spotted flycatchers, and the Grey-headed gulls.
They are present here from October till March as they keep away from winter. Other bird species that can be sighted here include the Termnicks stint and Hottentot teals.
Best time for bird watching in Uganda
Generally, the best time for bird watching in Uganda is during the months of late May to September when the rains are less. Migrant birds are present in the country from November to April. If your interest is resident birds, then Uganda bird watching tours are good all year round.
Whether you are an avid birder or just a seasoned birder, Uganda won't be a disappointing destination. Come ready to tick off thousands of bird species and a long safari would be a great option.
Other activities that can be added to the trip include Uganda wildlife safaris, gorilla trekking tours, white water rafting, horse riding, hiking, and many more.
According to your desires, we can customize your bird-watching safari with any other activity no matter the number of people in the group.
Here are some of the recommended itineraries that tourists can choose when going on the East Africa safari.
3 days Volcanoes park Rwanda gorilla trekking safari
10 Days Rwanda wildlife safaris tours 
14 Days gorilla safari Rwanda and wildlife tour 
3 Days Murchison Falls Safari Uganda Tour
3 Days Gorilla Safari Uganda Bwindi Impenetrable Park Tour
3 Day Queen Elizabeth National Park Safari
4 Days Kidepo Valley National Park Uganda Safari
3 Day Jinja City Tour Uganda Safari
8 Days Uganda Wildlife Safaris Tour
9 Day Uganda Wildlife Safaris Tour
14 Day Uganda Safari Eco-explorer
15 Days Uganda Wildlife Safari Kigali City Rwanda Tour