Interesting activities to do while on a safari in Uganda
Even without Winston Churchill having to trek mountain gorillas or chimpanzees, he was so wowed and named this beautiful country the Pearl of Africa.  Uganda is indeed an amazing Africa safari destination with lots of wildlife, flora, fauna and bird species. World over, Uganda safaris have been preferred by travelers and therefore chosen by many for the interesting activities to do while on a safari in Uganda.
Wishing to visit Uganda but puzzled on what activity to do?  here is a highlight of the top activities to do while on safari in Uganda. Each activity is amazing though some are restricted by age and therefore you should choose Wisely; 
Wildlife viewing/game drives
Uganda is home to a diversity of wildlife ranging from the "Big five" to the "small five" something that has made wildlife safaris in Uganda a top choice for tourists that tour Uganda.
Uganda is home to about 345 mammal species found in the 10 national parks, wildlife reserves, and sanctuaries. These mammal species comprise of East African and West African species found in forests and especially savannah plains. The top wildlife viewing parks in Uganda include Murchison Falls National Park, Kidepo Valley National Park, Queen Elizabeth National Park.
Birding Uganda should be a top option for all passionate birders since the country has more than 1,080 confirmed bird species within its boundaries. This is almost half of the bird species in Africa's reason for Uganda birding safaris to be at the top choice on any birders on Africa bird watching tours.
Uganda is home to forest, woodland, water and savannah bird species. The top bird watching spots include mabamba wetland,  Bwindi forest, Murchison Falls National Park, Kidepo Valley National Park, Semuliki National Park, and Mgahinga Gorilla National Park.
Hiking safaris in Uganda or Mountain climbing tours Uganda are mostly undertaken on Mountain Rwenzori in southwestern Uganda, Mount Elgon in Eastern Uganda and volcano climbing in Mgahinga.
Hiking tours offer a chance to see Africa up close on foot and have a real feel of off the beaten trails experience rather than viewing the scenery at afar. 
Gorilla trekking/tracking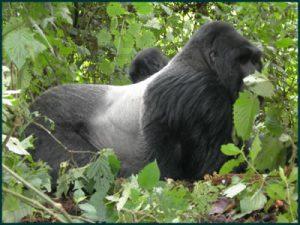 Uganda gorilla trekking safaris are done in Bwindi Impenetrable National Park and Mgahinga Gorilla National Park in Southwestern Uganda. Gorilla safaris in Uganda started way back in 1993 when gorilla trekking was opened to tourists after a gorilla habituation process. A gorilla trekking permit in Uganda costs USD 600 for each permit sold to only individuals above the age of 15. 
One of the most interesting primates to trek while on safaris in Uganda are the Chimpanzees. Chimpanzee trekking in Uganda is almost the second popular tracking activity after gorilla trekking. Uganda has a high population of chimpanzees with close to 5000 of them in the county most of them in their natural habitats. 
The chimpanzee trekking spots include Kibale Forest National Park, Budongo Forest,  Kyambura Gorge and Kalinzu Forest. 
Popular safari packages in Uganda
Uganda with these and more activities here are sample safari activities to  choose from
7 days great primates Uganda safari 
14 days Uganda safari Eco-explorer