Kibale Forest National Park Activities
Kibale Forest National Park is located in the districts of Kabarole and Kamwenge with the popular activities being chimpanzee trekking and bird watching. The park is about 320 kilometers by road west of Kampala and majorly accessed by road. Kibale prides itself as being Africa's top protected primate habitat with about 13 primate species within the park.
With the humidity of the park, it has very luxuriant and dense vegetation, at times with tangled growth of vines that are intertwined with the tree trunks. Chimpanzees are man's closest relatives sharing more than 98% DNA. Chimps are generally fruit and plant eaters, but they also consume insects, eggs, and meat.
Chimpanzee trekking is one of Kibale Forest National Park Activities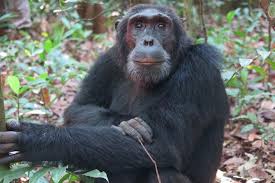 Chimpanzees in the forest can decide to be elusive, however, when you have them in your sight they will enchant you with their antics for lifetime memories.
Kibale Forest National Park is very accessible for chimpanzee trekking and a 4 days chimpanzee trekking safari is a good itinerary.
Chimpanzee trekking is such a memorable experience as you get to walk through the tropical forest. Walking through the jungle, the echoes from the chimpanzees will always keep you going and searching for the chimps.
When you get to see the chimps they will enchant you for about 1 hour and have all the memorable pictures of these great apes.
Bird watching as one of Kibale Forest National Park Activities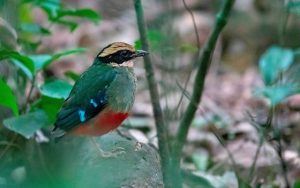 Kibale forest is a large block of rainforest that offers excellent birding experiences with about 400 bird species.
Some of the bird species that can be spotted in the forest include the Weaver bird, Pied Hornbill, Afep Pigeon, Narina Trogon, Hairy breasted Barbet, Yellow Spotted Barbet, Yellow-billed Barbet, Greenbul, Chestnut Starling, and the shy Green Breasted Pitta.
With the great bird count as well as the environment, any avid birder should choose to visit Kibale Forest for Uganda birding Safaris on a short tour of about 2 – 3 days within the park.
Other than chimpanzee trekking and bird watching, other activities in Kibale Forest National Park include a visit to the Bigodi wetland for primates and birds and the park is a good place to see butterflies. Community tourism is also such a good way to have an amazing experience with the people around this area.
Uganda safaris will be such a reward if you tailor in chimpanzee trekking in your trip. Kibale Forest National Park is a top pick for Uganda Chimpanzee trekking safaris easily accessible from Kampala-Uganda's capital.
However, there are also other places for chimp trekking like Kyambura Gorge, Budongo forest, and Kalinzu forest. The trip can also be tailored with Uganda wildlife safaris to other Uganda national Parks.
Here are some of the recommended itineraries that tourists can choose when going on the East Africa safari.
3 days Volcanoes park Rwanda gorilla trekking safari
10 Days Rwanda wildlife safaris tours 
14 Days gorilla safari Rwanda and wildlife tour 
3 Days Murchison Falls Safari Uganda Tour
3 Days Gorilla Safari Uganda Bwindi Impenetrable Park Tour
3 Day Queen Elizabeth National Park Safari
4 Days Kidepo Valley National Park Uganda Safari
3 Day Jinja City Tour Uganda Safari
8 Days Uganda Wildlife Safaris Tour
9 Day Uganda Wildlife Safaris Tour
14 Day Uganda Safari Eco-explorer
15 Days Uganda Wildlife Safari Kigali City Rwanda Tour