Lowest Price Short Uganda Gorilla Safaris
Lowest price, affordable or cheap and short Uganda gorilla safaris is what all travelers who want to trek gorillas in Uganda on the lowest price in the market.  Many tourists would desire to have the unique Uganda gorilla trekking safari experiences at lowest price. All gorilla trekking destinations have a fixed cost of each permit, however, there are seasons when discounted permits are available. For affordable gorilla tours in either Uganda or Rwanda here are the best ways to plan;
Uganda gorilla tours are apparently the cheapest because of the very affordable permit costs. A gorilla permit in Uganda costs US$ 700 almost half the price of the permit in the nearby Rwanda which is at US$ 1500. With the cost of the gorilla permit for foreign nonresidents at US$ 700, foreign residents at US$ 600 and UGX 250,000 for East African citizens it is possible to have a very affordable gorilla trek.
In the low season, discounted permits can also be purchased making it suitable for budget travelers. The other way of reducing the cost is by choosing to stay in budget accommodations.
The distance from Kampala, Uganda's capital is about 10 hours and therefore if coming from the capital then the shortest number of days to spend is 3. One day for transfer to, second day for trekking and the third day for return. To reduce on the number of days and cost, one can arrive via Rwanda and transfer to the park, trek the next day and return to Rwanda for departure making it a 2 days gorilla trekking trip.
Uganda is a popular gorilla trekking safari country in Africa because of the fact that the country is home to more than half of the world's remaining mountain gorillas. In Uganda tourists can trek gorillas from Bwindi Impenetrable National Park as well as Mgahinga Gorilla National Park with  lowest price short Uganda gorilla safaris itineraries.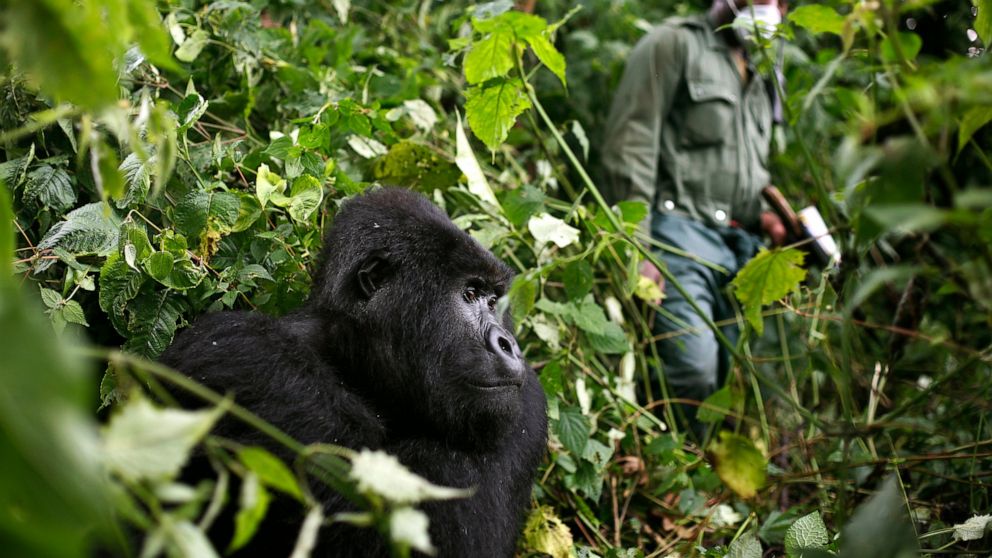 Budget Gorilla Tours Rwanda
Budget gorilla trekking Rwanda is basically planning the cheapest packages for gorilla tours to Volcanoes National Park. When it comes to gorilla tours, many travelers always wonder which one is the cheapest way to see mountain gorillas in Rwanda.
To see mountain gorillas in Rwanda, tourists have to purchase a gorilla permit which costs USD 1500 per person. The cost of the permit is not negotiable, however, there are incidences where the permits are discounted for some groups of tourists which persons can take advantage of for a budget tour.
For budget, cheap or affordable gorilla tours in Rwanda, book discounted permits if available, use cheap means of transport and plan short trips. Budget accommodation is key in reducing how much you will spend on your Rwanda gorilla tour.
The Mountain gorilla population of Volcanoes National Park is said to move for shorter distances than those in Bwindi Forest. For intending trekkers who would not wish to trek for long, then Rwanda is that perfect destination for gorilla trekking.
Volcanoes National Park is the closest park from its country's capital.  Unlike Uganda and Congo where you have a long drive of about 8 hour from the country's Airport to the park, in Rwanda the moment you arrive at Kigali International Airport, you are just 2 hours away from the Volcanoes National Park. In Rwanda it is possible to drive to the park on the day of the trek or return to Kigali after the trek. This makes it easy for travelers on short day tours to visit the country especially for tours ranging from 1 day to 3 days Rwanda gorilla trek.
Lowest price short gorilla tours are just as memorable as any other gorilla trekking experiences with the major difference only in accommodation and other factors like transport and personal purchases. The same ways of planning lowest price gorilla tours can be used to plan a lowest price Uganda gorilla safari or Congo gorilla safari and other primate tracking or wildlife tours.