Where to see lions in Uganda – Big Five safaris in Uganda
Lions are one of the Big Five animals that are sought after on African safaris, the other four animals are Buffaloes, Rhinos, Leopards and Elephants. Where to see lions in Uganda therefore is ideal to make a Big Five safari in Uganda complete. Lions are part of the cat family and they are sought after by many Uganda wildlife safari tourists and knowing where to find and see them during that trip such a great addition to planning a perfect itinerary.
Wondering on how to get the best lion sighting experience in Uganda, here we guide you on choosing the best destination for lion sighting safaris in the country. Uganda's Kidepo Valley Park, Murchison Falls Park, and Queen Elizabeth Park are the best parks for lions sightings. There are also lions in Lake Mburo National and the Semliki Wildlife Reserve, but more often heard than seen.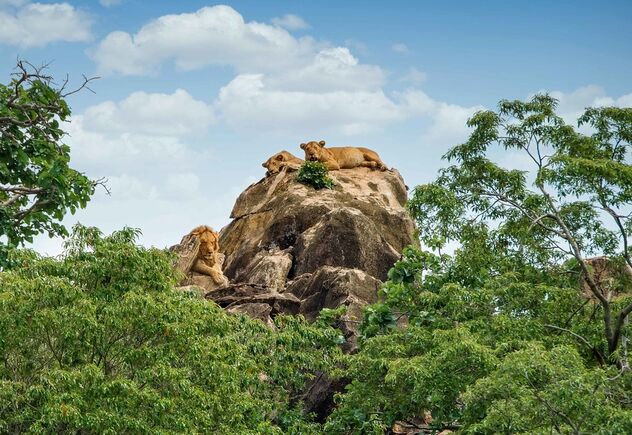 How many lions are left in Uganda?
The pearl of Africa is a must include in travellers bucket list when planning to unleash their safari imagination of an African safari. The country is a great idea to consider when planning your travel. The safari insider is home to 10 National Parks with several game reserves and sanctuaries. The conservation areas have enabled the existence of several wild animals with the most famous Africa's Big Five animals (lion, leopard, African Elephant, African Buffalo and Rhinos). If you're wondering how many lions are left in Uganda, only about a thousand mountain gorillas remain on the planet, and more than half live in Uganda. The country has only about 300 lions and 2,000 giraffes; however plenty of other wildlife forms exist here.
Where to see lions in Uganda's National Parks
Kidepo Valley National Park in north eastern Uganda – Kidepo Valley National Park is one of the famous National Parks in the country with a steadily growing population of lions. The park locates in a very remote area along the boarder of Uganda and Sudan, it has that rugged kind of beautiful land scape with rocky parts, there are some parts covered by wetlands and others are savannah plains. Lions area often seen lying on top of the rocks sun bathing, they tend to lay quite under tree shades in the middle of the savannah grass covered areas and most times they are not easily see. This park is one of the unspoiled national parks and not so long ago in 2015 December CNN listed the 3rd best tourism destination in Africa.
Queen Elizabeth National Park – home to tree climbing lions
The National Park is the second largest in the country, home to remarkable numbers of wildlife. As you drive through Ishasha region of the park, you will continue to search around those big trees for the climbing lions. They spend a lot of their time of the day resting up in the fig trees and the view is so amazing especially when you find a number of them lying up in one tree. This part of the sector is one of the rarely visited parts of this park despite the existence of these lions. You have to follow the lion tracking trails that were set up and the search is much more fun and easier in the morning hours. Queen Elizabeth National Park is one of the best parks to combine with a gorilla tracking in Uganda safari to either Bwindi Impenetrable National Park or Mgahinga Gorilla National Park.
Murchison Falls National Park – The National Park is the largest in the country and fantastic to visit. Murchison falls is blessed with that beautiful savannah grass land studded with those huge Borassus Palm Trees and these make the park's landscape look really beautiful perfect for wildlife viewing including the lions. In Murchison, lions are often seen during the game drive on the northern side of the park where most animals found a home. An early morning game drive or very late game drive gives you a better chance of seeing the lions.
Murchison is a little bit extraordinary compared to the other parks where you can find lion because lion watching in this park is combined with the existence of the amazing Murchison Falls which will see if to take a ride along the Victoria Nile. A trip to here is fantastic with a great chance of witnessing the Big Five when you visit Ziwa Rhino Sanctuary.
Lake Mburo National as well as in Semliki Wildlife Reserve are also home to the remaining few lions in the country. It is however rare to see lions in Semliki and Lake Mburo so if you found some lions in this park, then you consider yourself happy.
Plan your Big Five wildlife safari in Uganda and see the lions as well as several other wildlife species. Plan with us perfect low budget trips for wildlife viewing, gorilla trekking, chimpanzee trekking, bird watching and all sorts of adventure.