Quad biking safaris in Jinja – Adventure Uganda Safaris
Quad biking safaris in Jinja is one of the amazing adventure safaris in Uganda that one can undertake and rewind while fully active. Jinja also referred to as the adrenaline capital of East Africa is a great destination for relaxation with several activities including the amazing quad biking experience.
Quad biking safaris in Jinja is a drive-yourself adventure and sightseeing safari.
Safety comes first and has many different routes to suit each rider; easy and scenic, challenging and technical, or a combination.
Start times to suit you, all day, every day of the year. There are easy-to-drive Quad bikes (All Terrain Vehicles) to suit all levels and ages. Minimum number – 1 person.
Located just across the road from Explorers River Camp at Bujagali, All Terrain Adventures offers a 1hr, 2hr, 3hr, and 4hr quad biking safaris as well as Kids Quads Circuits for children up to 12 years old.
No previous experience driving a vehicle is necessary. A free training session is conducted before each safari. Trips are tailored to suit the riders' ability and give the best possible adventure. Allow an extra 30 minutes for preparation and the training/practice session before the safari starts.
The wetter the better – ATV Quad bikes love mud and so will you, sliding across the puddles and potholes!
Included with every Quad biking safaris in Jinja are safety briefing, training, protective clothing, bottled water, and a huge dose of pure fun.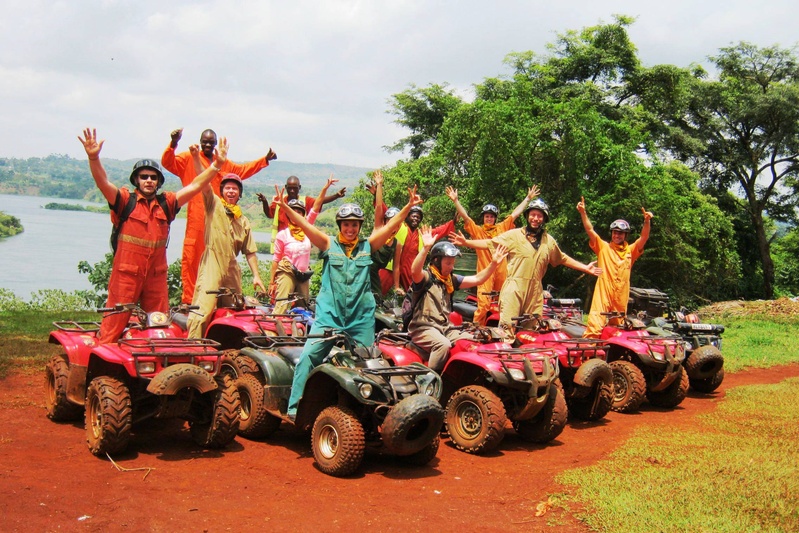 There are several categories of Quad biking safaris in Jinja and these are;
The easiest safari along the banks of the River Nile- off the beaten tracks and into the warm heart of Uganda. Available every day from 8:15 am to 4:45 pm
Where your time is limited or there are young children in your group, this option will give you a taste of the area near the "Source of the Nile" while enjoying a big dose of the best value, driving yourself, and adventure sightseeing safaris available in East Africa. For all ages and levels.
No previous experience is necessary, even if you have never driven anything else before. Training and practice are given before the trip starts. This is exclusive of your safari time. Starting with practice around the 3 training circuits on our site at Bujagali, we'll take you on a trip along the banks of the River Nile, through farms, forests, and villages. Bring a camera, there are some great photographic sceneries along the trails.
This is the most popular safari. Start times every day between 8:15 am and 4:45 pm. We tailor our safaris to suit each group. Easy trails make up the start of the trip and then we have the option of more challenging and technical sections if suitable or your focus is more on sightseeing and cultural aspects. We follow the Nile downstream from Bujagali and then away from the riverbank, through farmland, forest, and small villages in rural Uganda.
We stop at various viewpoints and points of interest. For the more adventurous we have a trail ride down the steep banks to the water's edge below the Bujagali Dam. Along the routes we choose to give you the best possible safari, there are great photo opportunities.
You have the opportunity for brief stops in some of the small villages and trading centers for a chance to meet the people living in the area.
Your guide(s) carry bottled water and money to buy cold drinks at one of the trading centers that you will ride through. Then it's back on the trail for some faster sections.
The final part of the safari takes you past Softpower's Amagezi Education Centre and through Kyabirwa village where most of our guides live.
The final part of the trip brings you back to our base at Bujagali Falls for a warm welcome back.
On this safari, we are able to take you on a journey through the farms, forests, and small villages beside the River Nile and then add some really special sections to give you more challenging sections. With more time available to take you further out along the Nile, through the farms, forests, and villages along the east bank.
We tailor the trip according to the group, but generally, after the first hour, as you get more familiar with your ATV's potential we get to show you more what quad bike riding is really about and why they are called All-Terrain Vehicles.
We give you a trip a great trip through some special parts of this area that requires more effort to get to. This longer safari we are able to take you on more challenging sections. There will also be more opportunities to meet some of the people living in the area.
Optionally you may prefer to spend more time visiting the local communities, farmers, and areas of forest on this trip besides the River Nile. Your guide, who lives in the area will be able to help you to get what you want from the safari.
Bring a camera and a smile, you will find plenty of opportunities to use them.
Take a ride into the sunset along the banks of the Victoria Nile. Follow trails downstream from Bujagali along the east bank of the Nile as the sun sinks below the horizon.
Enjoy views over the River Nile as the sun sinks below the hills on the west bank. Then we stop for a delicious Ugandan buffet with many dishes to suit all appetites in Kyabirwa village.
By late afternoon the day has cooled. Start time around 4:30 with a free training/practice session and when everyone is comfortable riding their ATV quadbikes, we start your safari.
The light along the banks of the river takes on extraordinary qualities as the sunset develops. We highly recommend that you bring a camera with you to capture these beautiful views.
We stop for the buffet meal, as the sun sets, around 7 pm. The final stage is a unique night through an African village ride back to our site at Bujagali. Finish time around 8:30 to 9:00 pm.
Note; This safari must be booked in advance and confirmed before 12pm on the day so that the family we work with can purchase all the food and start preparing a delicious  Ugandan banquet with a wide selection of dishes for you.
Kids Quads circuits – 35 min sessions including training and short safaris.
Using carefully designed, supervised circuits, we provide the opportunity for children to safely experience the joy of riding an ATV / Quad bike and learn to ride in a safe environment with skilled guides.
If the children are not able to ride themselves, we offer the option of riding with our guides or with dad or mum.
A special treat, family day out, and also for school groups (must be booked in advance).
Take a ride into a lovely scenic drive through several villages to the Itanda falls. This is an exciting trip where you get a chance to access the world's longest river grade 5 waterfalls,
Itanda Falls was discovered after the loss of Bujagali Falls due to the Hydro Power dam.
This trip goes for about 4 – 4.1/2 hours.
Book with us Quad biking safaris in Jinja and have the adventure to rewind at the shores of the Nile River. We also plan other Uganda safaris tours and these include bird watching tours, chimpanzee trekking, gorilla tracking in Uganda, day tours, and many more adventure trips. Contact us with your interests and we get your trips customized.