Tanzania safaris for families-Tanzania Family Safaris
Tanzania, a great Africa safari destination is indeed welcoming for all kinds of travelers and yes safaris for families are suitable too. Tanzania safaris for families traveling in groups of adults and children can visit the different destinations of the country.
When planning family safaris in Tanzania, always consider the fact that walking safaris are not suitable for children under the age of 12, and many guides operating in areas where there are populations of dangerous wildlife won't take children under the age of 16 unless they have been seen to ably behave suitably.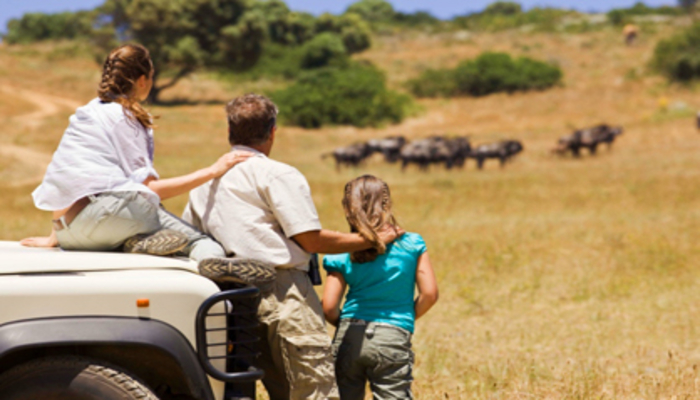 What age is best for safari?
There isn't a uniform best age for children going on Tanzania safaris, however, 8 years is a good age. This is just that by the age of eight there are higher chances of a child following park instructions and also being easily controlled.
Families with younger children can still visit Tanzania. Some lodges and safari activities have a minimum age and this should be considered when booking a family safari accommodation.
How long should kids be on safari?
Planning to take children along on a family safari should be prepared in accordance with the age of the children. With very young kids, about 3 to 4 days of safari in a row are suitable and enough for most children.
Places to visit on Tanzania safaris for Families
The Serengeti – from witnessing the Great Migration to catching sight of the big cats that follow the herds, you and your children will be mesmerized by this national park every time you set off on a traditional game drive!
The Serengeti really excels when it comes to safari activities for youngsters – tracking, making bows-and-arrows, and going on walks around camp with staff, are just a few examples of what kids can get up to here. There's always something to look at close to camp, from birds to smaller mammals, and the staff is great at entertaining children.
Ngorongoro Crater – the views from the Crater rim are sure to have you and your little ones gasping with awe. Well worth a visit for the scenic vistas alone, the Crater is also steeped in history, so the kids can enjoy a little learning as you cruise along the caldera floor.
Selous Game Reserve – the Selous is a watery world filled with palm trees, boat cruises, and of course some wonderful wildlife. This reserve is perfect for a quieter family safari!
In the Selous, there's fishing and canoeing, at least for older children. Walking has a minimum age requirement of 15 years, so this activity is available for mid-to-late teenagers. Walks provide thrilling opportunities to experience the bush, offering a different perspective from game drives.
Zanzibar – you can't beat family time spent on the beach, and that's why we recommend a few days' post-safari along the white sandy beaches of Zanzibar!
Zanzibar offers plenty of things to do too, such as playing on the beach, trying a few watersports, and taking trips to spice farms, Jozani Forest, and tortoise-plastic Prison Island!
Tanzania safaris for families are a great way of taking time off with the entire family for a moment to rewind and enjoy the authentic African wilderness.
Acacia safaris also plan family safaris all through East Africa including Uganda safaris, Rwanda tours, and Kenya safaris all customized to suit your family travel needs. For families with children older than 15, gorilla tracking in Uganda or Rwanda gorilla tours is a great recommendation.
Related Searches on Kenya Safaris and Tanzania Safari Expeditions 2022/23 – Travel with Acacia Safaris Uganda
Great Wildlife Migration in Kenya
Great Wildlife Migration in Tanzania
Wildlife Safari Adventures in Kenya
Wildlife Safari Adventures in Tanzania
Where to go for a Tanzania Safari?
Where to go for a Kenya Safari?
Best Selling Tanzania Safaris tour packages in 2022/23
Best-selling Kenya safaris tour packages in 2022/23
Luxury Kenya Safaris Tours in 2022/23
Luxury Tanzania Safaris Tours in 2022/23