Hot Air Balloon Safari Uganda -Romantic hot air balloon experience 
Hot Air Balloon Safari Uganda is one of the best romantic Uganda safaris packages for travelers especially couples on honeymoon safaris.
Hot air balloon safaris are not one of the popular activities undertaken by tourists but offer such a great experience and are much recommended especially for honeymoon travelers.
Murchison Falls National Park is the top destination for hot air balloon experiences. Balloons for the hot air experience come in many shapes and sizes, most of them are regular cone-shaped balloons and the size is quantified with the amount of air the balloon can carry. The bigger the volume of air, the more weight the balloon can hold and thus the higher number of passengers it can accommodate.
At Murchison Falls National Park, Dream Balloon operates with a medium-sized balloon that can accommodate 8 passengers. This suits small groups, honeymooners, wedding proposals, and private tours. The balloon can flight to up to 10,000 ft above sea level.
The hot air balloon safari Uganda experience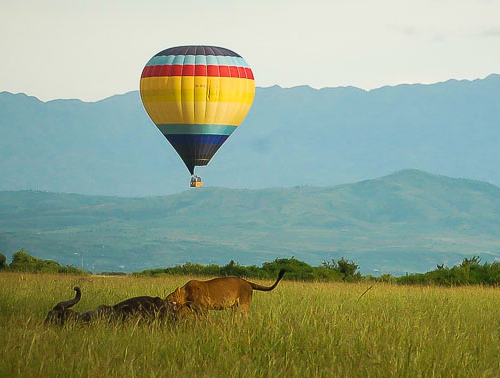 For the hot air balloon safari experience, you are taken to the launch site in the wildlife side of the park by around 5:00 am. Here you have the briefing on safety precautions, rules, and regulations as you get ready to board the balloon and the team makes final preparations. Once aboard, the pilot will launch for set off and the blowing wind will help the balloon rise to several feet off the great then soar above the treetops.
While above the ground, you will have an experience of having an aerial view of the savannah below teaming with all kinds of wildlife including large numbers of animals that crowd the banks of the Nile River.
The experience takes about 1 hour then you land on the ground. After the experience, you finish off with bush breakfast which is also another experience.
For those interested in having an afternoon hot air balloon experience, there is one that starts exactly at 4 pm. This does not have any special offers or meals after the ride.
Wear comfortable clothing that is warm for the morning rides and cameras as well as binoculars to record all the great memories. For adrenaline junkies, this is a Uganda safari activity not to be missed.
If one is wondering whether the hot air balloon experience is safe, it indeed is. The balloon at Murchison Falls National Park is an ultra magic type M-160 manufactured in Spain and registered with CAA under registration mark 5x-JBH.
The hot air balloon has an airworthiness certificate and is serviced after every flight and regularly maintained by a certified specialized hot air balloon Engineer as per manufacturer's regulations and is inspected by CAA on regular basis.
The pilots operating the balloon are licensed by Egyptian and Ugandan Civil Aviation Authorities. The ground crew was trained on ground operations by a specialized certified instructor.
Hot air balloon safaris to Murchison Falls National Park can be booked with options including sunrise or post sunrise hot air balloon safari with or without bush breakfast, sunset hot air balloon safari, and short rides for large groups and students.
Best Selling Gorilla Trekking Safari Holidays in Uganda and Rwanda

3 Days Gorilla Trek Bwindi Uganda
3 Days Gorilla Trek Mgahinga Uganda
3 Days Gorilla Trek Rwanda – Volcanoes
4 Days Gorilla Safari Uganda – Bwindi Forest
1 Day Gorilla Trek Rwanda – Volcanoes
Mountain Gorilla Related Searches in East Africa
Gorilla Trekking in Uganda – Bwindi
Gorilla Trekking Tours in Rwanda
Gorilla Trekking Safaris in Bwindi – Uganda
Short Uganda Gorilla Trekking in Uganda
Long Gorilla Trekking Safaris in Uganda
Is Gorilla Trekking in Uganda Safe
Is gorilla trekking in Rwanda Safe
How much is gorilla trekking in Uganda
How much is gorilla trekking in Rwanda
Gorilla Trekking Permit in Uganda
Where to see mountain gorillas in Africa?
Where to go for gorilla trekking in East Africa