What to wear on safari in Uganda for any season
What to wear on safari in Uganda for any season is what guides any tourist on what to pack for any Uganda safari. An essential packing list for what to wear for the safari in Uganda should include all kinds of clothing and footwear essential to keep you comfortable all through the days of the tour no matter whether during the dry or rainy season.
Deciding what to wear on an African safari is easier said than done because the weather in Africa is nothing like many travelers from outside Africa expect. Africa isn't one hot continent, the reality is it gets cold and hot depending on seasons and the time of the day.
It is important to know what to wear for safari and some items need to be on any packing list for Uganda since they are simply essential. The most important things to consider when choosing what to wear should be based on comfort, ease, colors, temperatures, and style. Try as much as you can to blend in with the background and be comfortable for all the activities including nature walks, trekking, and hiking. Here is a highlight of what you require to pack when deciding to visit Uganda;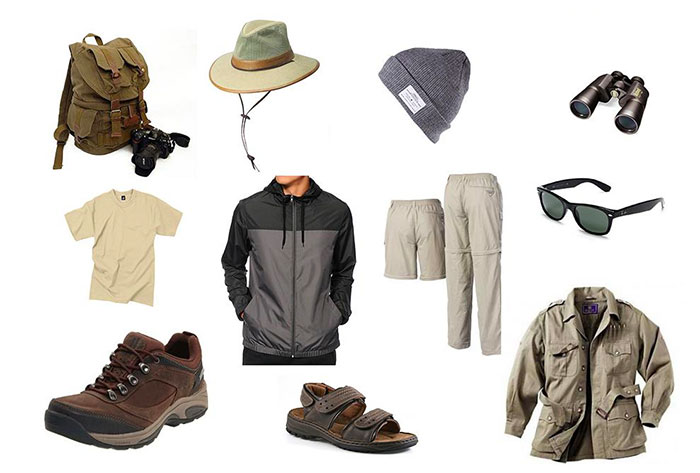 Clothes for the cold and warm weather – What to wear on safari in Uganda

When choosing clothes to wear, choose clothes with safari-like colors. These can be colors like khaki, beige, taupe, or grey. These colors are dull and blend well with the environment. Avoid wearing bright clothes with colors like blue, red, orange, pink, and yellow. Black and dark blue are thought to attract tsetse flies and predators identify red with wounded animals.
White clothes can stain easily and therefore not recommended to wear in the field for both the dry and wet season since in the dry season it is dusty and the clothes can get stained and in the rainy season it gets muddy and white clothes easily stain.
Late evenings can get cold therefore pack light clothes including t-shirts and always carry a sweater for the cold evenings.
For activities that require walking in the jungle-like Uganda gorilla safaris, chimpanzee trekking, nature walks, and mountaineering always wears long-sleeved shirts and trousers. Since you are going to walk in the jungle where insects can give nasty bites, wearing long-sleeved shirts and trousers is recommendable. Wear shirts, long enough to cover your hands to the wrist and trousers long enough to be tucked into your stocking. Shorts and vests are not anything to think of when planning to go on a walking safari. The long clothing should also be comfortable and thick with colors that can't get stained easily.
Carry a rain jacket for the rainy season in case it rains during the safari activities.
Footwear to pack – What to wear on safari in Uganda

On your packing list, the shoes or footwear should be carefully catered for. For most of the safari, game drives sandals and open shoes can be worn since the game drive is in the vehicle and you won't have to get out and walk. However, for activities that include hiking or walking you require hiking boots.
Ensure to have comfortable hiking shoes such that hiking is made easy and you don't get bruises. To keep your legs warm, put on cotton stockings inside to keep your ankles safe. It's recommendable to try on your shoes maybe by taking morning jogging before you set out for the trip.
Wearing a brimmed hat on an African safari isn't just for luxury during safari but for head protection from the scorching sun. A brimmed hat is very useful especially when you have to go on a walking safari or moving around during the day. Remember to carry your brimmed hat and for the trekking activities, simple hats or bandanas could keep especially female hair safe.
Note: Remember to pack luggage that suits the minimum required 15 kilograms for aircraft.
Choosing what to wear on safari in Uganda for any season is good to base on when packing your essential light luggage for the tour. This packing list can be considered when packing or choosing what to wear for Rwanda gorilla tours, Kenya safaris, or Tanzania wildlife safaris.
You May Also Be Interested In The Following Packages – Book Uganda Gorilla Safari Packages at a Discount
3 Day Uganda gorilla trekking safari, Uganda safari, Acacia safaris
3 Days Uganda Gorilla Trekking Safari is done in Bwindi Impenetrable National Park which is located in southwestern Uganda a magnificent verdant swathe across the steep ridges of the Albertine Rift Valley. This ancient rain-forest is one of the few in Africa to have flourished and home to half of the world's endangered population of mountain gorillas.
Looking into the expressive brown eyes of these giants is surely the most exciting and poignant wildlife encounter Uganda has to offer! Apart from the gorilla trekking Tour, the park boasts of 90 mammal species, including 11 primates and prominent bird species. It is a treasure chest of flora and fauna with ten gorilla groups currently available to be visited by only eight persons per group on a daily basis. However, strict rules have to be followed to prevent behavioral disturbances and transmission of diseases.
3 Days Bwindi Gorilla Safari Uganda Tour
3 Days Bwindi Gorilla Safari Uganda Tour takes you for Uganda gorilla tour to Uganda gorilla safaris tour destination for gorilla trekking tours while on your Uganda safaris to Bwindi Impenetrable forest park.
3 Days Gorilla Safari Uganda Bwindi Impenetrable Park Tour, Uganda gorilla tour, gorilla safaris, gorilla trekking tours, gorilla safaris, Uganda safaris, gorilla tracking, Gorilla forest camp, where to visit in Africa, attractions in Uganda. Find the gorillas in the marvelous primates.
An encounter with an earth-shaking 350-pound silverback or baby gorilla is an unforgettable experience! view the long-horned Ankole cattle papyrus acacia woodlands and terraced landscape of Kigezi high lands on your way to Bwindi impenetrable national park.