Gorilla Trekking Safari combined with Wildlife safaris – Guaranteed safaris to Uganda 2023 – 2024
Vacations in Africa can get interesting with exceptional adventure experiences. Gorilla Trekking Safari combined with Wildlife safaris – Combine adventure safaris offer more than just sightseeing experiences but also chances to experience nature in its real state. Gorilla trekking is the leading safari activity on many travelers' bucket lists when planning a visit to Africa. If the question is, "Can you combine a gorilla safari with a wildlife safari" the answer is yes.  
It is very possible to combine to experience Gorilla Trekking Safari combined with Wildlife safaris on your vacation in Uganda and Rwanda. The gorilla trekking countries also have superb wildlife that you will enjoy viewing and taking beautiful photographs.
While traveling to Uganda, viewing the plains game sweeping across huge savannahs, rivers full of hippos and crocs, big night skies studded with stars, lions snoozing in the long grass, and leopards lolling in trees is truly amazing. however, you can still have all this classic and delicious safari cake, and top it off with a unique and magical wildlife cherry, Mountain gorillas Trekking.  Acacia safaris limited will offer all you need to know when planning a Gorilla Trekking Safari combined with Wildlife safaris.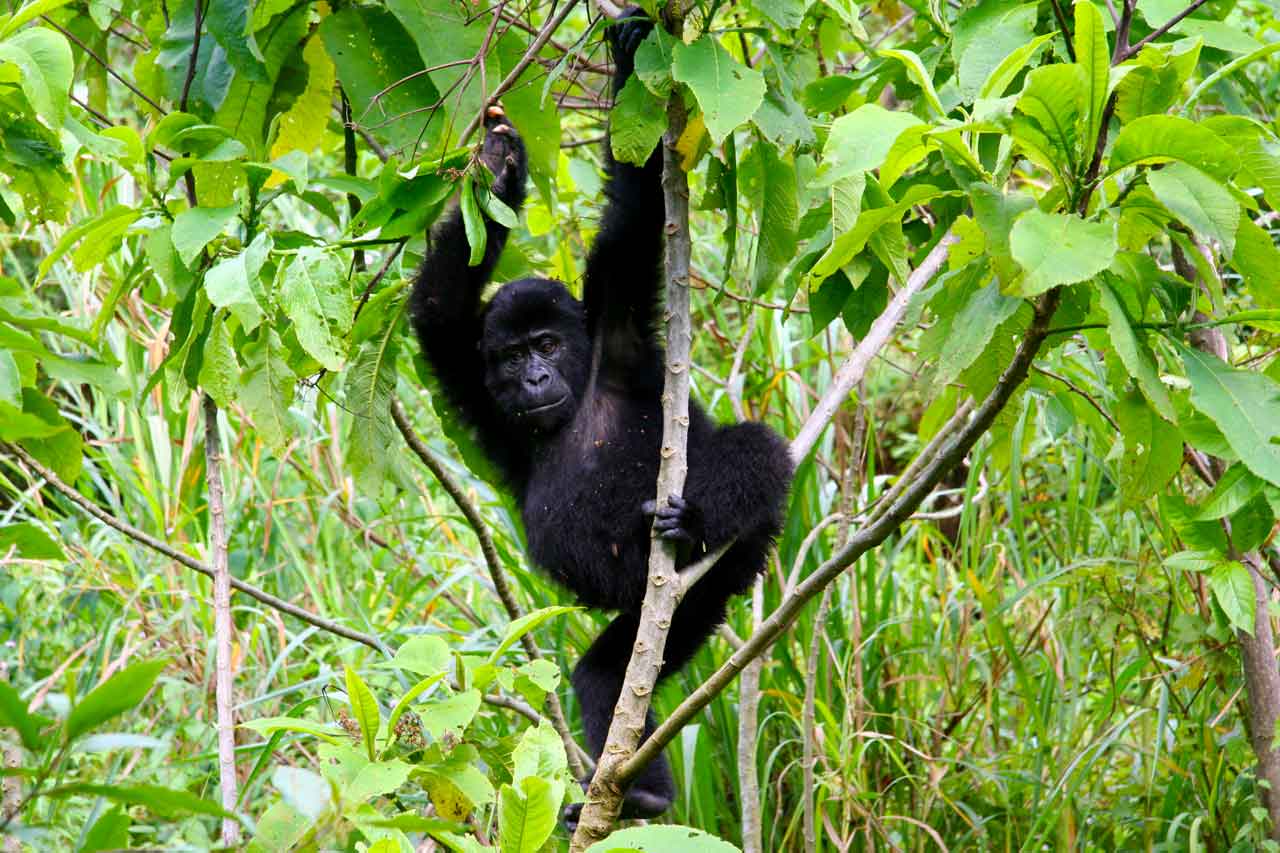 Mountain Gorilla Trekking – Gorilla Trekking Safari combined with Wildlife safaris 
Mountain Gorillas are the most endangered of all the gorilla species and can only be found in three countries that include; Uganda, Rwanda, and D. R Congo. Coming face to face with these massive giants up close will make you really feel awesome. Gorillas are our second closest relatives after the chimpanzees sharing up to 96% of DNA with humans.
Acacia Safaris Limited offers all the necessary information that will help you to plan your Gorilla Trekking Safari combined with Wildlife safaris in East Africa. Gorilla trekking both in Uganda and Rwanda can be combined with Wildlife safaris. Both Uganda and Rwanda host a variety of other wildlife species that can be spotted in National Parks and several Wildlife reserves. In Uganda, gorilla trekking can be combined with a visit to the other top safari parks within the western part of the country. The top safari parks here include; Murchison Falls National Park, Queen Elizabeth National Park, Lake Mburo National Park, and Kibale Forest National Park among others.
Uganda is one destination in East Africa that can serve up both a safari and gorillas, with guaranteed sightseeing experiences. While in the country you will have a chance to get a glance at one more of the famous primate species, the chimps on top of the mountain gorillas.
Gorilla safaris can be combined with other adventures such as white water rafting down the Nile, Game drives in the National Park, Balloon rides, and Boat cruises among others. Uganda safaris are further spiced up by the country's shining greenery, and the diverse range of landscapes, from open plains to mountain forests, supporting amazing biodiversity. Conveniently, many of the country's wildlife highlights lie quite close to one another.
Queen Elizabeth, Uganda's second-largest national park, is home to lions, gazelle, and huge numbers of hippos and elephants. From here it's a short hop to Kibale Forest to track chimpanzees (around 1,500 live here) and the other primates living here, and then you can travel to Bwindi Impenetrable Forest for Gorilla trekking.
Acacia Safaris Limited offers a wide range of packages that will allow you to combine your Uganda gorilla trekking safari with wildlife viewing in other National Parks. With over 20 years of experience, Our team of travel experts and planners is flexible enough to craft an incredible best safari package for you.