What are The Big 5 animals in Kenya? – What are the Big Five Animals in Africa?
For any wildlife lover, Kenya is a superb destination to visit for your Wildlife Safari. Kenya is a superb destination boasting several National Parks and Reserves that inhabit a wide variety of wildlife species including the famous Big Five Animals in Africa. If you are wondering what The Big 5 animals in Kenya are, there is no doubt you are at the right place for the right answers. The Big 5 animals in Kenya/The African Big Five Animals are the most thought of by most travelers to Africa. The Big 5 animals in Kenya are the lion, leopard, Elephant, Rhino, and Buffalo.
When you book a Kenya Wildlife Safari with Acacia Safaris Limited, you are guaranteed to see all these magnificent wildlife species in several National Parks and Reserves. The most popular destinations for Big game sightseeing in Kenya are Masai Mara National Reserve which is located in the southwestern part of Kenya, Amboseli National Park, Samburu National Park, and both Tsavo East and West. Enjoy incredible adventures in Kenya, and explore its diverse safari parks and reserves for Big Five safari animal sightings and wildebeest migrations among others.
The African Big Five Animals – The Big 5 animals in Kenya
The term "Big Five" is a term that was used by the early big hunters in Africa to refer to the 5 African animals that were considered the most difficult and dangerous to hunt on foot. They were hard to hunt on foot because they fought back whenever they were hunted. Over the years the term has gained more popularity in the tourism industry and many visitors have been attracted to watching these magnificent animals. These animals include the African elephant, lion, leopard, Cape buffalo, and rhinoceros.
The following are the African Big Five animals – The Big 5 animals in Kenya 
African Elephant (Loxodonta africana)
African elephants (Loxodonta africana) are remarkable creatures that captivate people with their size, intelligence, and complex social behaviors. The African elephant is the largest mammal on Earth. It is found in 37 countries in sub-Saharan Africa, with a population of around 415,000.
Elephants are massive creatures and they are amazing to watch while on your safari in Kenya. Adult males weigh between 10,000 to 13,000 pounds, while females weigh between 5,000 to 7,000 pounds making them the largest mammals on earth.
African elephants have large bodies and long trunks, which serve as flexible appendages aiding in feeding, drinking, and social interactions. They have distinctive, elongated incisor teeth called tusks, which are present in both males and females. These tusks are elongated upper incisor teeth made of ivory, and they continue to grow throughout an elephant's life.
African elephants are the larger of the two elephant species, with males reaching an average height at the shoulder of 10-13 feet (3-4 meters) and females measuring around 8-9 feet (2.5-3 meters). They can be as long as 18-24 feet (6-7.3 meters) from trunk to tail.
African elephants are highly social animals that live in complex family units called herds. These herds are primarily led by the oldest and most experienced female, known as the matriarch. Within a herd, elephants display strong social bonds, communicate through various vocalizations, and demonstrate an elaborate range of behaviors, including mourning their dead and caring for injured or sick individuals.
Where to see elephants
African elephants are found across sub-Saharan Africa, inhabiting a range of diverse ecosystems such as savannas, forests, deserts, and marshes. They are adaptable to various habitats but are dependent on the availability of water sources. In Kenya, you will see elephants in several parks and reserves across the country however the best place to watch these majestic giants is Amboseli National Park.  
Amboseli National Park is located in the southern part of Kenya and boasts of a high concentration of elephants. Other places to see them in Kenya include Tsavo National Park, Samburu National Reserve, Maasai Mara National Reserve, and Lake Nakuru National Park.
Cape Buffalo/African buffalo (Syncerus caffer),
The Cape buffalo, also known as the African buffalo (Syncerus caffer), are powerful and robust bovine found in sub-Saharan Africa and can be seen on your wildlife safari in Kenya.
They have a distinctive set of horns that form a fused shield at the top of their head, called a boss. Both males and females have these horns, with those of males being larger and more robust. The average shoulder height of Cape buffalo is around 4 to 5 feet (1.2 to 1.5 meters), and they can weigh between 1,100 to 1,950 pounds (500 to 880 kilograms).
Cape buffalo are highly social creatures that live in herds, which can consist of a few individuals to several hundred members. Males tend to be more solitary or form small bachelor herds outside, especially during the breeding season. Cape buffalo exhibit complex social interactions, employing various vocalizations and body gestures for communication within the herd.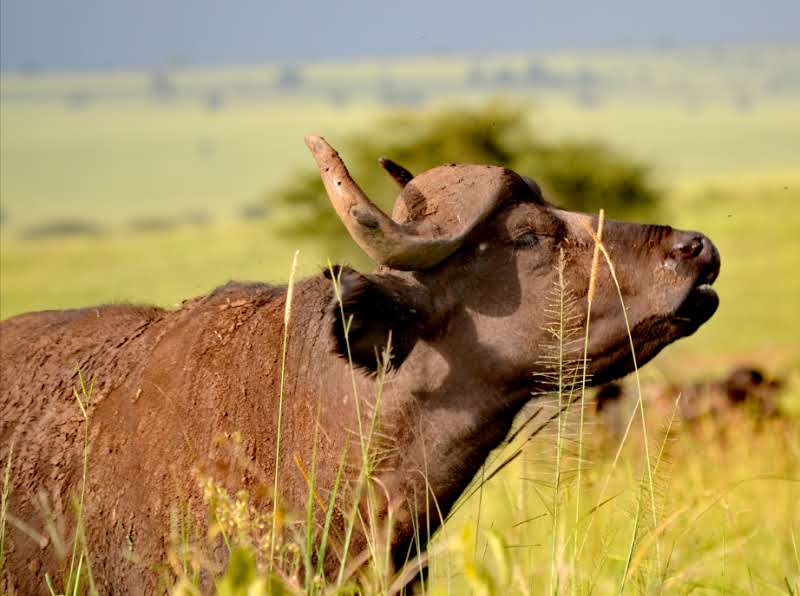 Cape buffalo inhabit a wide range of ecosystems, including savannas, grasslands, woodlands, and swamps. These adaptable animals can thrive in varied habitats, from arid regions to more lush and densely vegetated areas. In Kenya, you will enjoy spotting these animals in various National Parks and Reserves. Of all the Big Five animals in Kenya, the African Buffalo is the most frequently spotted during Kenya Wildlife Safaris of Game viewing safari tours.
Lion/African lion (Panthera leo)
The African lion is a large carnivorous mammal. It belongs to the Panthera leo species and is commonly referred to as the "king of the jungle" due to its status as the apex predator in its natural habitat.
Adult male lions have a distinct mane of hair around their heads and necks, which varies in color from blond to dark brown or black. They have a muscular build with a length ranging from 5 to 8.5 feet (1.5 to 2.6 meters) and can weigh between 330 to 550 pounds (150 to 250 kilograms). Female lions are slightly smaller, with no mane, and usually weigh between 265 to 395 pounds (120 to 180 kilograms).
Lions in Africa inhabit various types of ecosystems, including grasslands, savannas, and open woodlands. Lions are highly adaptable and can survive in both hot and cold climates.
social structure
Lions are known for their social structure, living in groups referred to as prides. Prides usually consist of multiple related adult females, their offspring, and a small number of adult males. Male lions are usually ousted from their birth pride once they reach maturity and form smaller bachelor groups or become nomads until they can challenge the current males in another pride and take control.
The Lion is a powerful carnivore that primarily preys on large ungulates, such as zebras, wildebeests, buffaloes, and various antelope species. They employ strategic hunting techniques, often hunting in groups to increase their chances of success. Female lions are often the primary hunters, using their superior agility and teamwork to bring down prey.
During wildlife safaris in Kenya, you will grab a chance to spot these massive cats in the wild and if lucky enough, you may spot them making a kill. Lions can be seen in Masai Mara National Reserve in Kenya.
Leopard (Panthera pardus pardus) – The Big 5 animals in Kenya
The African leopard, scientifically known as Panthera pardus pardus, is a large and elusive carnivorous mammal. Leopards have a slender and agile body, with males weighing between 80 to 200 pounds (36 to 90 kilograms), while females are slightly smaller. Their fur is covered with rosettes, which are circular spots arranged in a pattern unique to each individual. The coloration ranges from pale gold to a tawny yellow, providing camouflage in the grasslands, forests, and rocky terrain where they dwell.
African leopards can be found in forests, savannas, and mountainous regions, but can also inhabit grasslands and coastal areas.
Unlike African lions, leopards are solitary animals. They are highly territorial and mark their territories with urine, scratch marks, and vocalizations. These territories can range from 10 to 50 square kilometers, depending on the availability of prey and habitat richness.
African leopards are primarily nocturnal creatures, preferring to hunt during the cover of darkness. Their keen night vision, acute hearing, and agility make them successful hunters. Leopards feed on a wide range of prey, including various antelope species, monkeys, rodents, and occasionally larger animals such as young ungulates.
Leopards are skilled climbers and have adapted to spend a significant amount of time in trees. They use this ability to avoid competition with larger predators and to store kills out of reach from scavengers. Leopards are also known for their stealth. The ability to move silently and unseen through their environment. In Kenya, you will spot leopards in Masai Mara National Reserve.
Rhinos (Rhinocerotidae) – The Big 5 animals in Kenya
Rhinos, also known as rhinoceroses, are large herbivorous mammals that belong to the family Rhinocerotidae. Despite their size and distinctive appearance, rhinos are facing significant threats to their survival.
There are five extant species of rhinos – the White Rhino, Black Rhino, Indian Rhino, Javan Rhino, and Sumatran Rhino. They are native to different parts of Asia and Africa. The White Rhinos are found in Southern Africa, while the Black Rhino is distributed across Eastern and Southern Africa.
In Kenya, you will have an opportunity to spot both the black and white rhinos in different safari parks, reserves, and conservancies.
Rhinos occupy a variety of habitats, including grasslands, savannas, tropical forests, and swamps. They are primarily herbivorous, feeding on grasses, shoots, leaves, and fruits. Rhinos have relatively poor eyesight but compensate with a strong sense of smell and acute hearing. They are typically solitary animals, except for mothers who care for their young.
Kenya Safaris Tour Related Searches
Tanzania Safaris Tour Related Searches