Uganda Birding Safaris–Nature Walks in Bigodi wetland Sanctuary
Uganda is home to over 1050 bird species and Bigodi wetland is a top place for Uganda birding safaris all year round. Bigodi is rich in biodiversity and scenic beauty, the Wetlands Sanctuary is a must visit while on a Uganda safari in the western region. A nature guided walk long enough to about 4.5km will take you through this important wildlife corridor of Kibale Forest and will take up to 3h. The safari here offers great adventure with the scenic beauty of the Fauna and flora in the Sanctuary.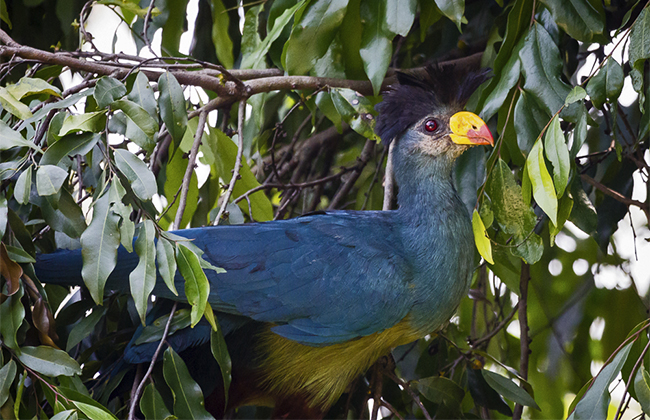 Bigodi wetland Sanctuary is a famous "Home of the Great Blue Turaco" with lot of more bird species making it a real bird watcher's paradise. The Beautiful and wonderful Sanctuary shelters over 200 species of birds including Hornbills, Turacos, Parrots, Cranes, Kingfishers and many more swamp endemics. Furthermore, the sanctuary is the home of 8 species of primates, including the Black and White Colobus, Red Colobus, Red Tailed Monkey, Grey Cheeked Mangabey, Olive Baboon, L'hoest Monkey, Vervet Monkey and the Blue Monkey.
The Sanctuary swamp also habituates several other mammals such as sitatungas, bushbucks and otters. Local and knowledgeable guides will take you on an interpretive tour as they escort you through the lush vegetation. This is the perfect opportunity to view the wildlife from the forest pathways, boardwalks and atop a tree house tucked high in the canopy, wow what a fantastic experience!!
Activities in Bigodi Wetland Sanctuary
A tour of the Bigodi wetland offer wide range of activities Kibale National Park. The wetland simplifies spotting primates and birds making it more interesting and successful in the Bigodi swamp than it is in Kibale forest itself. The dense forest hides most of the primates and birds while in Bigodi, it is possible to have a clearer view of all the creatures.
Nature Walks: The activity is usually led by trained local Guides who are very knowledgeable of the local terrain. They are able to identify all the animal, bird and plant species and explain details about their matting Nature Walks in Bigodi Wetlands Sanctuary and breeding habits. Expect to encounter rich vegetation, wild plants and flowers. The Guides will share information about the role of the community in preserving the Eco-system and how their effort is contributing to the well-being of the people economically. You can ask to view the forest and vast wetland from a tall tree house. Nature walks cost $30 for international visitors and take 3 hours for each session. The morning session starts at 7:30 while the afternoon session starts at 3.00pm.
Birding in Bigodi sanctuary swamp – Birding in Bigodi wetland offers great experience, second to none. The sheer variety and density of birds is difficult to describe. Most of the birds find the swamp a perfect sanctuary and breeding ground (fewer predators). The Bigodi Wetlands sanctuary is also a great feeding ground because it attracts insects and frogs which are favored by the birds.
Cultural and Village guided Walks – Bigodi village is relatively small however embedded with all characteristic of typical pearl of Africa rural setting – mud/brick houses, surrounding gardens, playing children, women and men. Visiting the village offers visitors a great opportunity to experience the local food, learn how coffee is grown and visit the local schools. Alternatively, one can visit the Bigodi Women's Group. This group is comprised of over 40 individuals. They make beautiful African crafts including beads from recycled paper or materials got from the swamp.
Visit the new Snake Park – The Bigodi wetland is home to venomous and non-venomous snakes. Unfortunately, it is rare to see them unless you spend more time in the area. To allow tourist see all the different types of snakes found in the area, the project has come up with an interesting preposition – start a small snake park. This park will house all kinds of snakes and will be offered as a free package as long as one books for the nature or village walks. One can also choose to visit the snake park alone without going for any of the other activities.
Include Bigodi wetland in any of your birding in Uganda itineraries and enjoy the sightings of different bird species. After a chimpanzee trekking safari in Kibale forest or during along Uganda tour from gorilla tracking in Uganda's Bwindi or Mgahinga you can still visit Bigodi wetland for Uganda birding safaris.